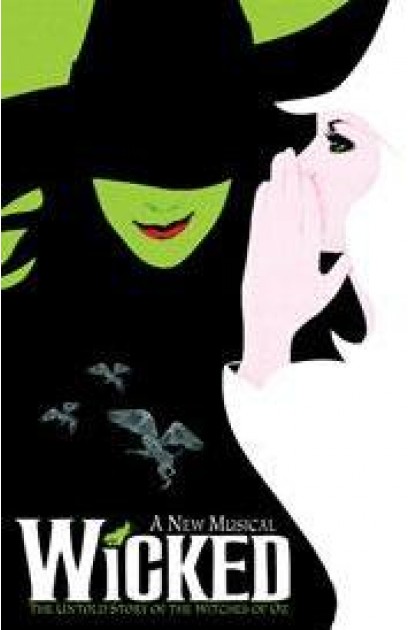 Running Time: 2hrs 45mins
Wicked takes a revisionist look at an American icon of evil and discovers how the young Elphaba, a passionate, committed young woman from Oz, becomes the Wicked Witch of the West. Her character is contrasted with that of her school roommate Glinda, who grows up to be the Good Witch.
For The Record:
This production will reopen August 3, 2021.

| | | |
| --- | --- | --- |
| (11/9/11 - 12/4/11) | Des Moines, IA | (Civic Center) |
| (12/7/11 - 12/31/11) | Detroit, MI | (Detroit Opera House) |
| (1/4/12 - 1/22/12) | Jacksonville, FL | (Jacksonville Center) |
| (1/25/12 - 1/12/12) | Austin, TX | (Bass Concert Hall) |
| (2/15/12 - 3/4/12) | Birmingham, AL | (Birmingham Jefferson - Concert Hall) |
| (3/7/12 - 3/25/12) | Norfolk, VA | (Chrysler Hall) |
| (3/28/12 - 4/15/12) | Fort Myers, FL | (Barbara B. Mann PAC) |
| (4/18/12 - 4/29/12) | North Charleston, SC | (North Charleston Coliseum PAC) |
| (5/2/12 - 5/27/12) | Durham, NC | (Durham Performing Arts Center) |
| (5/30/12 - 6/24/12) | Dayton , OH | (Schuster PAC) |
| (6/27/12 - 7/8/12) | East Lansing , MI | (Wharton Center) |
| (7/11/12 - 7/29/12) | Ottawa ON, Ontario | (National Arts Centre) |
| (8/1/12 - 8/26/12) | Montreal, QC | (Place Des Arts Pelletier) |
| (8/29/12 - 9/9/12) | Kitchener, ON | (Centre in the Square) |
| (9/12/12 - 9/30/12) | Louisville, KY | (The Kentucky Center) |
| (10/3/12 - 11/4/12) | Baltimore, MD | (Hippodrome) |
| (11/7/12 - 11/25/12) | Schenectady, NY | (Proctor's Theatre) |
| (11/25/12 - 12/9/12) | Syracuse , NY | (Landmark Theatre) |
| (12/12/12 - 1/6/13) | St. Louis, MO | (Fox Theatre) |
| (1/9/13 - 1/27/13) | Tampa, FL | (Straz Center) |
| (1/30/13 - 2/17/13) | Fort Lauderdale, FL | (Broward Center) |
| (2/20/13 - 3/10/13) | Orlando, FL | (Bob Carr PAC) |
| (3/13/13 - 3/31/13) | Charlotte, NC | (Blumenthal - Belk) |
| (4/3/13 - 4/21/13) | Rochester, NY | (Auditorium Theatre) |
| (4/24/13 - 5/5/13) | Kalamazoo, MI | (Miller Auditorium) |
| (5/8/13 - 5/19/13) | South Bend, IN | (Morris Performing Arts Center) |
| (5/22/13 - 6/9/13) | Madison, WI | (Overture Center for the Arts) |
| (6/12/13 - 7/7/13) | Milwaukee, WI | (Marcus Center - Uihlein Hall) |
| (7/10/13 - 8/11/13) | Houston, TX | (Hobby Center - TUTS) |
| (8/14/13 - 9/1/13) | Toledo, OH | (Stranahan Theater) |
| (9/4/13 - 9/22/13) | Oklahoma City, OK | (Civic Center Music Hall) |
| (9/25/13 - 10/6/13) | Little Rock, AR | (Robinson Center Music Hall) |
| (10/9/13 - 10/27/13) | Kansas City, MO | (Music Hall Kansas City) |
| (10/30/13 - 11/10/13) | Des Moines, IA | (Civic Center) |
| (11/13/13 - 12/1/13) | Indianapolis, IN | (Murat at Old National Centre) |
| (12/4/13 - 1/5/14) | Cleveland, OH | (Playhouse Square) |
| (1/8/14 - 1/26/14) | Buffalo, NY | (Shea's PAC) |
| (1/29/14 - 2/16/14) | Memphis, TN | (Orpheum Theatre (TN)) |
| (2/19/14 - 3/9/14) | Austin, TX | (Bass Concert Hall) |
| (3/12/14 - 3/30/14) | San Antonio, TX | (Majestic Theatre) |
| (4/2/14 - 4/13/14) | Fresno, CA | (Saroyan Theater) |
| (4/16/14 - 5/4/14) | Boise, ID | (Morrison Center) |
| (5/7/14 - 5/25/14) | Spokane, WA | (First Interstate Center) |
| (5/28/14 - 6/29/14) | Vancouver, BC | (Queen Elizabeth Theatre (Civic Theatres)) |
| (7/2/14 - 7/20/14) | Edmonton, Alberta | (Northern Alberta Jubilee Auditorium) |
| (7/23/14 - 8/17/14) | Calgary, Alberta | (Southern Alberta Jubilee Auditorium) |
| (8/20/14 - 8/30/14) | Winnipeg , Manitoba | (Centennial Concert Hall (Winnipeg)) |
| (9/3/14 - 11/2/14) | Toronto, ON | (Ed Mirvish Theatre) |
| (11/5/14 - 11/23/14) | Hartford, CT | (The Bushnell - Mortensen Hall) |
| (11/26/14 - 12/7/14) | Norfolk, VA | (Chrysler Hall) |
| (12/10/14 - 1/4/15) | Detroit, MI | (Detroit Opera House) |
| (1/7/15 - 1/25/15) | Durham, NC | (Durham Performing Arts Center) |
| (1/28/15 - 2/15/15) | Greenville, SC | (Peace Concert Hall) |
| (2/18/15 - 3/8/15) | Atlanta, GA | (Fox Theatre) |
| (3/11/15 - 3/29/15) | Miami, FL | (Arsht Center) |
| (4/1/15 - 4/26/15) | Baltimore, MD | (Hippodrome) |
| (4/29/15 - 5/17/15) | Dayton , OH | (Schuster PAC) |
| (5/20/15 - 5/31/15) | El Paso, TX | (The Plaza Theatre) |
| (6/3/15 - 7/5/15) | Denver, CO | (Denver Center - Buell Theatre) |
| (7/8/15 - 8/2/15) | Seattle, WA | (Paramount (WA)) |
| (8/5/15 - 8/23/15) | Portland, OR | (Keller Auditorium) |
| (8/26/15 - 10/4/15) | Tempe, AZ | (ASU Gammage) |
| (10/7/15 - 10/18/15) | Kansas City, MO | (Music Hall Kansas City) |
| (10/21/15 - 11/1/15) | Madison, WI | (Overture Center for the Arts) |
| (11/4/15 - 11/15/15) | Milwaukee, WI | (Marcus Center - Uihlein Hall) |
| (11/18/15 - 12/6/15) | Louisville, KY | (The Kentucky Center) |
| (12/9/15 - 1/3/16) | St. Louis, MO | (Fox Theatre) |
| (1/6/16 - 1/31/16) | Charlotte, NC | (Blumenthal Arts - Ovens) |
| (2/3/16 - 2/14/16) | Springfield, MO | (Hammons Hall) |
| (2/17/16 - 3/6/16) | Costa Mesa, CA | (Segerstrom Center) |
| (3/9/16 - 4/16/16) | San Francisco, CA | (Orpheum (San Fran)) |
| (4/20/16 - 5/22/16) | Dallas, TX | (Music Hall) |
| (5/25/16 - 6/19/16) | New Orleans, LA | (Saenger Theatre) |
| (6/22/16 - 7/3/16) | Birmingham, AL | (Birmingham Jefferson - Concert Hall) |
| (7/6/16 - 8/14/16) | Houston, TX | (Hobby Center - TUTS) |
| (8/17/16 - 9/4/16) | Columbus, OH | (Ohio Theatre) |
| (9/7/16 - 9/18/16) | South Bend, IN | (Morris Performing Arts Center) |
| (9/21/16 - 10/8/16) | Providence, RI | (Providence PAC) |
| (10/12/16 - 10/23/16) | Wichita, KS | (Century II Performing Arts and Convention Center) |
| (10/26/16 - 11/6/16) | Peoria, IL | (Peoria Civic Center) |
| (11/9/16 - 11/27/16) | East Lansing , MI | (Wharton Center) |
| (11/30/16 - 12/11/16) | Wallingford, CT | (Oakdale Theatre) |
| (12/14/16 - 1/8/17) | Washington, DC | (Kennedy Center - Opera House) |
| (1/11/17 - 1/29/17) | Orlando, FL | (Dr Phillips Center) |
| (2/1/17 - 2/26/17) | Tampa, FL | (Straz Center) |
| (3/1/17 - 3/12/17) | Schenectady, NY | (Proctor's Theatre) |
| (3/15/17 - 3/26/17) | Syracuse , NY | (Landmark Theatre) |
| (3/29/17 - 4/9/17) | Rochester, NY | (Auditorium Theatre) |
| (4/12/17 - 5/14/17) | Minneapolis, MN | (Orpheum Theater (MN)) |
| (5/17/17 - 6/4/17) | Buffalo, NY | (Shea's PAC) |
| (6/7/17 - 7/23/17) | Boston, MA | (Boston Opera House) |
| (7/26/17 - 8/27/17) | Philadelphia, PA | (Academy of Music) |
| (8/30/17 - 9/10/17) | Appleton, WI | (Fox Cities PAC) |
| (9/13/17 - 10/15/17) | Cincinnati, OH | (Aronoff Center - P&G) |
| (10/18/17 - 11/5/17) | Grand Rapids, MI | (DeVos Place Performance Hall) |
| (11/8/17 - 12/3/17) | Cleveland, OH | (PlayhouseSquare - State Theater) |
| (12/6/17 - 1/21/18) | Chicago, IL | (Oriental Theatre - Ford Center) |
| (1/24/18 - 2/11/18) | Pittsburgh, PA | (Benedum Center for the Arts) |
| (2/14/18 - 3/4/18) | Fort Lauderdale, FL | (Broward Center) |
| (3/7/18 - 3/25/18) | Memphis, TN | (Orpheum Theatre (TN)) |
| (3/28/18 - 4/22/18) | Nashville , TN | (Tennessee PAC) |
| (4/25/18 - 5/13/18) | Indianapolis, IN | (Murat at Old National Centre) |
| (5/16/18 - 6/3/18) | Omaha, NE | (Orpheum Theater (Omaha)) |
| (6/6/18 - 6/17/18) | Toledo, OH | (Stranahan Theater) |
| (6/20/18 - 8/5/18) | Toronto, ON | (Ed Mirvish Theatre) |
| (8/7/18 - 9/2/18) | Detroit, MI | (Detroit Opera House) |
| (9/5/18 - 9/23/18) | Tulsa, OK | (Tulsa PAC - Chapman Hall) |
| (9/26/18 - 10/14/18) | San Antonio, TX | (Majestic Theatre) |
| (10/17/18 - 10/28/18) | Albuquerque, NM | (Popejoy Hall) |
| (10/31/18 - 11/25/18) | San Diego, CA | (Civic Theatre) |
| (11/28/18 - 1/27/19) | Los Angeles, CA | (Pantages Hollywood) |
| (1/30/19 - 3/3/19) | Salt Lake City, UT | (Eccles) |
| (3/6/19 - 3/17/19) | Boise, ID | (Morrison Center) |
| (3/20/19 - 3/31/19) | Fresno, CA | (Saroyan Theater) |
| (4/3/19 - 5/5/19) | Tempe, AZ | (ASU Gammage) |
| (5/8/19 - 6/9/19) | Denver, CO | (Denver Center - Buell Theatre) |
| (6/12/19 - 7/7/19) | Seattle, WA | (Paramount (WA)) |
| (7/10/19 - 7/28/19) | Portland, OR | (Keller Auditorium) |
| (7/31/19 - 8/11/19) | Eugene, OR | (Hult Center ) |
| (8/14/19 - 9/8/19) | San Jose, CA | (San Jose Center for the Performing Arts) |
| (9/11/19 - 9/29/19) | Las Vegas, NV | (The Smith Center ) |
| (10/2/19 - 10/20/19) | New Orleans, LA | (Saenger Theatre) |
| (10/23/19 - 11/17/19) | Atlanta, GA | (Fox Theatre) |
| (11/20/19 - 12/1/19) | Jacksonville, FL | (Jacksonville Center) |
| (12/4/19 - 12/29/19) | St. Louis, MO | (Fox Theatre) |
| (1/1/20 - 1/19/20) | Little Rock, AR | (Robinson Center Music Hall) |
| (1/22/20 - 2/9/20) | Columbia, SC | (Koger Center) |
| (2/12/20 - 3/8/20) | Baltimore, MD | (Hippodrome) |
| (3/11/20 - 3/29/20) | Madison, WI | (Overture Center for the Arts) |
| (4/1/20 - 4/19/20) | East Lansing , MI | (Wharton Center) |
| (8/3/21 - 9/5/21) | Dallas, TX | (Music Hall) |
| (9/8/21 - 10/3/21) | Charlotte, NC | (Ovens Auditorium) |
| (10/6/21 - 10/24/21) | Greenboro, NC | (Tanger Center) |
| (10/27/21 - 11/14/21) | Appleton, WI | (Fox Cities PAC) |
| (11/17/21 - 12/5/21) | Cincinnati, OH | (Aronoff Center - P&G) |
| (12/7/21 - 1/2/22) | Cleveland, OH | (PlayhouseSquare - State Theater) |
| (1/5/22 - 1/23/22) | Kansas City, MO | (Music Hall Kansas City) |
| (1/26/22 - 2/6/22) | Tucson, AZ | (Centennial Hall) |
| (2/9/22 - 3/6/22) | Costa Mesa, CA | (Segerstrom Center) |
| (3/9/22 - 3/27/22) | Spokane, WA | (First Interstate Center) |
| (3/30/22 - 4/24/22) | Sacramento, CA | (Safe Credit Union PAC) |
| (4/27/22 - 5/15/22) | Omaha, NE | (Orpheum Theater (Omaha)) |
| (5/18/22 - 6/5/22) | Columbus, OH | (Ohio Theatre) |
| (6/8/22 - 7/24/22) | Boston, MA | (Boston Opera House) |
| (7/27/22 - 8/28/22) | Minneapolis, MN | (Orpheum Theater (MN)) |
| (8/31/22 - 9/11/22) | Richmond, VA | (Altria Theater) |
| (9/14/22 - 9/25/22) | Norfolk, VA | (Chrysler Hall) |
| (9/28/22 - 12/4/22) | Chicago, IL | (James M Nederlander) |
| (12/7/22 - 1/22/23) | Washington, DC | (Kennedy Center - Opera House) |
| (1/25/23 - 2/12/23) | Orlando, FL | (Dr Phillips Center) |
| (2/15/23 - 3/5/23) | Miami, FL | (Arsht Center) |
| (3/8/23 - 3/26/23) | Tampa, FL | (Straz Center) |
| (3/29/23 - 4/9/23) | West Palm Beach, FL | (Kravis Center) |
| (4/12/23 - 5/7/23) | St. Louis, MO | (Fox Theatre) |
| (5/10/23 - 5/28/23) | East Lansing , MI | (Wharton Center) |
| (5/31/23 - 7/2/23) | Houston, TX | (Hobby Center - TUTS) |
| (7/5/23 - 7/30/23) | Atlanta, GA | (Fox Theatre) |
| (8/2/23 - 8/20/23) | Greenville, SC | (Peace Concert Hall) |
| (8/23/23 - 9/17/23) | Durham, NC | (Durham Performing Arts Center) |
| (9/20/23 - 10/8/23) | Louisville, KY | (The Kentucky Center) |
| (10/11/23 - 10/29/23) | Nashville , TN | (Tennessee PAC) |
| (11/1/23 - 11/26/23) | Philadelphia, PA | (Academy of Music) |
| (11/29/23 - 12/17/23) | New Orleans, LA | (Saenger Theatre) |
| (12/20/23 - 1/7/24) | San Antonio, TX | (Majestic Theatre) |
| (1/10/24 - 1/21/24) | Knoxville, TN | (Tennessee) |
| (1/24/24 - 2/18/24) | Detroit, MI | (Detroit Opera House) |
| (2/21/24 - 3/10/24) | Oklahoma City, OK | (Civic Center Music Hall) |
| (3/13/24 - 3/31/24) | Austin, TX | (Bass Concert Hall) |
| (4/3/24 - 4/21/24) | Memphis, TN | (Orpheum Theatre (TN)) |
| (4/24/24 - 5/12/24) | Hartford, CT | (The Bushnell - Mortensen Hall) |
| (5/15/24 - 6/2/24) | Grand Rapids, MI | (DeVos Place Performance Hall) |
| (7/24/24 - 8/25/24) | Denver, CO | (Denver Center - Buell Theatre) |