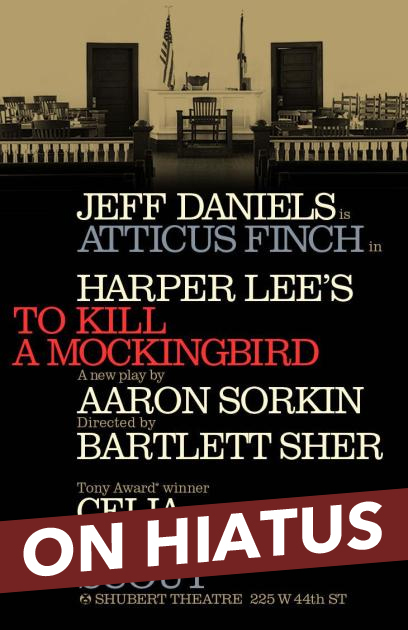 Theatre:
Shubert
(November 01, 2018 - )
Rehearsal: September 10, 2018
Preview: November 1, 2018
Open: December 13, 2018
Play - World Premiere
Running Time: 2hrs 35mins
Performances: Tues (7pm), Wed (1&7), Thurs (7pm), Fri (8pm), Sat (2&8), Sun (3pm)
Based on an event that occurred near her hometown of Monroeville, Alabama in the 1930s, Harper Lee's story of racial injustice and the destruction of childhood innocence centers on small-town lawyer and single father Atticus Finch.
For The Record:
This production is on hiatus, due to the COVID 19 restrictions, until May 30, 2021.
Lee's original novel was published in 1960, winning the Pulitzer. The 1962 movie starred Gregory Peck. Although other stage productions have been produced, none has played Broadway.
Last Week's Gross Potential: 71%
Last Week's Capacity: 91%
Total Gross to Date: $120,211,442