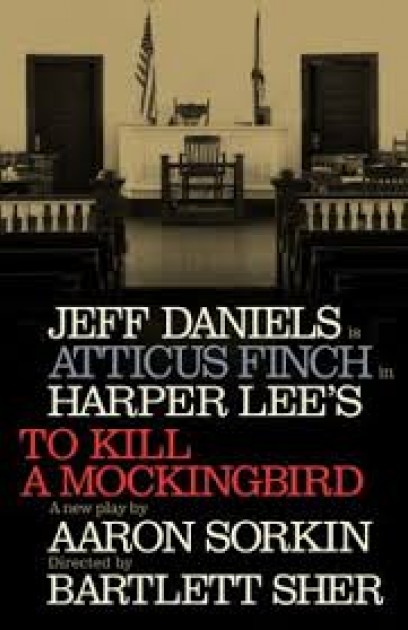 Rehearsal: February 21, 2022
Preview: March 27, 2022
Open: April 6, 2022
Based on an event that occurred near her hometown of Monroeville, Alabama in the 1930s, Harper Lee's story of racial injustice and the destruction of childhood innocence centers on small-town lawyer and single father Atticus Finch (modeled after Lee's father, attorney Amasa Lee), his young daughter Scout, her older brother Jem, and their mysterious neighbor, the reclusive Arthur "Boo" Radley. Written during the early stages of the Civil Rights Movement -- at a time when Jim Crow laws were still in effect in many Southern states -- Lee's novel held a mirror to the culture of racism of the Deep South.
For The Record:
This tour has been delated due to COVID-19 restrictions. It was originally scheduled to begin Perfs in the August of 2020.
| | | |
| --- | --- | --- |
| (2/13/22 - 2/14/22) | Auburn, AL | (Gogue PAC - Woltosz) |
| (3/27/22 - 4/2/22) | Buffalo, NY | (Shea's PAC) |
| (4/5/22 - 4/17/22) | Boston, MA | (Boston Opera House) |
| (4/19/22 - 4/24/22) | Pittsburgh, PA | (Benedum Center for the Arts) |
| (4/26/22 - 5/15/22) | Cleveland, OH | (PlayhouseSquare - Connor Palace) |
| (5/17/22 - 5/29/22) | Chicago, IL | (James M Nederlander) |
| (5/31/22 - 6/12/22) | Cincinnati, OH | (Aronoff Center - P&G) |
| (6/14/22 - 6/19/22) | Schenectady, NY | (Proctor's Theatre) |
| (6/21/22 - 7/10/22) | Washington, DC | (Kennedy Center - Opera House) |
| (7/12/22 - 7/24/22) | Philadelphia, PA | (Academy of Music) |
| (7/26/22 - 7/31/22) | Charlotte, NC | (Blumenthal - Belk) |
| (8/2/22 - 8/7/22) | Durham, NC | (Durham Performing Arts Center) |
| (8/23/22 - 8/28/22) | Des Moines, IA | (Civic Center) |
| (9/6/22 - 9/11/22) | Salt Lake City, UT | (Eccles) |
| (9/13/22 - 10/9/22) | San Francisco, CA | (Golden Gate Theater) |
| (10/11/22 - 11/16/22) | Seattle, WA | (Paramount (WA)) |
| (10/18/22 - 10/23/22) | Portland, OR | (Keller Auditorium) |
| (10/25/22 - 11/27/22) | Los Angeles, CA | (Pantages Hollywood) |
| (11/29/22 - 12/4/22) | San Diego, CA | (Civic Theatre) |
| (12/6/22 - 12/11/22) | Tempe, AZ | (ASU Gammage) |
| (12/13/22 - 12/18/22) | Albuquerque, NM | (Popejoy Hall) |
| (12/27/22 - 1/8/23) | Costa Mesa, CA | (Segerstrom Center) |
| (1/10/23 - 1/15/23) | Las Vegas, NV | (The Smith Center ) |
| (1/17/23 - 1/22/23) | Tucson, AZ | (Centennial Hall) |
| (1/24/23 - 2/5/23) | Denver, CO | (Denver Center - Buell Theatre) |
| (2/7/23 - 2/12/23) | Omaha, NE | (Orpheum Theater (Omaha)) |
| (2/14/23 - 2/19/23) | Minneapolis, MN | (Orpheum Theater (MN)) |
| (2/16/23 - 2/18/23) | Huntsville, AL | (Von Braun Center) |
| (2/21/23 - 2/26/23) | Appleton, WI | (Fox Cities PAC) |
| (2/28/23 - 3/12/23) | St. Louis, MO | (Fox Theatre) |
| (3/14/23 - 3/19/23) | Baltimore, MD | (Hippodrome) |
| (3/21/23 - 3/26/23) | Orlando, FL | (Dr Phillips Center) |
| (3/28/23 - 4/9/23) | Fort Lauderdale, FL | (Broward Center) |
| (4/11/23 - 4/16/23) | Tampa, FL | (Straz Center) |
| (4/18/23 - 4/23/23) | Greenville, SC | (Peace Concert Hall) |
| (4/25/23 - 4/30/23) | Houston, TX | (Hobby Center - TUTS) |
| (5/2/23 - 5/7/23) | San Antonio, TX | (Majestic Theatre) |
| (5/9/23 - 5/14/23) | Austin, TX | (Bass Concert Hall) |
| (5/16/23 - 5/28/23) | Dallas, TX | (Music Hall) |
| (5/30/23 - 6/4/23) | New Orleans, LA | (Saenger Theatre) |
| (6/6/23 - 6/11/23) | Columbus, OH | (Ohio Theatre) |
| (6/13/23 - 6/18/23) | Rochester, NY | (Auditorium Theatre) |
| (6/20/23 - 6/25/23) | Louisville, KY | (The Kentucky Center) |
| (6/27/23 - 7/2/23) | Hartford, CT | (The Bushnell - Mortensen Hall) |
| (8/1/23 - 8/6/23) | Charlotte, NC | (Blumenthal - Belk) |
| (8/8/23 - 8/13/23) | Chicago, IL | (CIBC Theatre) |
| (8/15/23 - 8/27/23) | Washington, DC | (Kennedy Center - Eisenhower) |
| (9/26/23 - 10/1/23) | Fort Worth, TX | (Bass Hall) |
| (10/3/23 - 10/8/23) | East Lansing , MI | (Wharton Center) |
| (10/10/23 - 10/15/23) | Oklahoma City, OK | (Civic Center Music Hall) |
| (10/17/23 - 10/22/23) | Dayton , OH | (Schuster PAC) |
| (10/24/23 - 10/29/23) | Kansas City, MO | (Music Hall Kansas City) |
| (11/1/23 - 11/1/23) | Wilmington, NC | (Wilson Center) |
| (11/3/23 - 11/5/23) | Waterbury, CT | (Palace Theater (CT) ) |
| (11/7/23 - 11/12/23) | Milwaukee, WI | (Marcus Center - Uihlein Hall) |
| (11/14/23 - 11/19/23) | Birmingham, AL | (Birmingham Jefferson - Concert Hall) |
| (12/1/23 - 12/3/23) | Eugene, OR | (Hult Center ) |
| (12/5/23 - 12/9/23) | Spokane, WA | (First Interstate Center) |
| (1/2/24 - 1/7/24) | West Palm Beach, FL | (Kravis Center) |
| (1/12/24 - 1/14/24) | Sioux Falls, SD | (Washington Pavilion) |
| (1/16/24 - 1/17/24) | College Station, TX | (Rudder Auditorium) |
| (1/19/24 - 1/21/24) | Iowa City, IA | (Hancher) |
| (1/23/24 - 1/28/24) | Indianapolis, IN | (Clowes Memorial Hall) |
| (1/30/24 - 2/4/24) | Norfolk, VA | (Chrysler Hall) |
| (2/6/24 - 2/11/24) | Providence, RI | (Providence PAC) |
| (2/20/24 - 2/25/24) | Fort Myers, FL | (Barbara B. Mann PAC) |
| (2/27/24 - 3/3/24) | Richmond, VA | (Altria Theater) |
| (3/5/24 - 3/17/24) | Detroit, MI | (Fisher Theatre) |
| (4/2/24 - 4/7/24) | Knoxville, TN | (Tennessee) |
| (4/9/24 - 4/14/24) | Naples, FL | (Artis—Naples - Hayes Hall) |
| (4/16/24 - 4/21/24) | Fayetteville, AR | (Walton Arts Center) |
| (4/23/24 - 4/26/24) | Grand Rapids, MI | (DeVos Place Performance Hall) |
| (4/30/24 - 5/1/24) | Evans, GA | (Columbia County PAC) |
| (5/3/24 - 5/5/24) | Worcester, MA | (Hanover Theatre) |
| (5/7/24 - 5/12/24) | Atlanta, GA | (Fox Theatre) |
| (5/14/24 - 5/19/24) | Greenboro, NC | (Tanger Center) |
| (6/4/24 - 6/5/24) | Utica, NY | (Stanley Theatre) |
| (6/7/24 - 6/9/24) | Chattanooga, TN | (Memorial Auditorium) |
| (6/11/24 - 6/12/24) | Lincoln, NE | (Lied Center) |
| (6/14/24 - 6/16/24) | Boise, ID | (Morrison Center) |
| (6/18/24 - 6/23/24) | Reno, NV | (Pioneer Center) |
| (6/25/24 - 6/30/24) | Thousand Oaks, CA | (Civic Arts Plaza) |