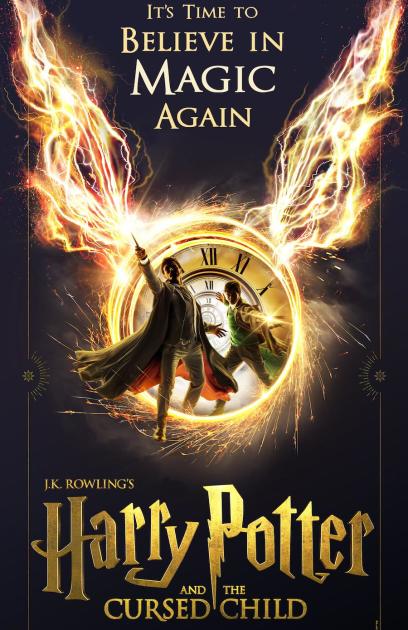 Reopening Dates
Rehearsal: October 4, 2021
Preview: November 12, 2021
Open: December 7, 2021
Rehearsal: January 11, 2018
Preview: March 16, 2018
Open: April 22, 2018
Play - American Premiere
Running Time: 3hrs 30mins
Performances: Tues (7pm) Wed (1&7), Thurs (7pm), Fri (7pm), Sat (1&7), Sun (1pm)
It was always difficult being Harry Potter and it isn't much easier now that he is an overworked employee of the Ministry of Magic, a husband and father of three school-age children. While Harry grapples with a past that refuses to stay where it belongs, his youngest son Albus must struggle with the weight of a family legacy he never wanted. As past and present fuse ominously, both father and son learn the uncomfortable truth: sometimes, darkness comes from unexpected places. This is the eighth story in the Harry Potter series, and the first official Harry Potter story to be presented on stage.
For The Record:
This production is on hiatus, due to the COVID 19 restrictions. The production will re-open as a newly staged one-show version.
This new play had its World Premiere in the West End at the Palace in July 2016. It was originally presented in two parts.
Last Week's Gross: $1,217,625
Last Week's Capacity: 82%
Total Gross to Date: $288,721,079