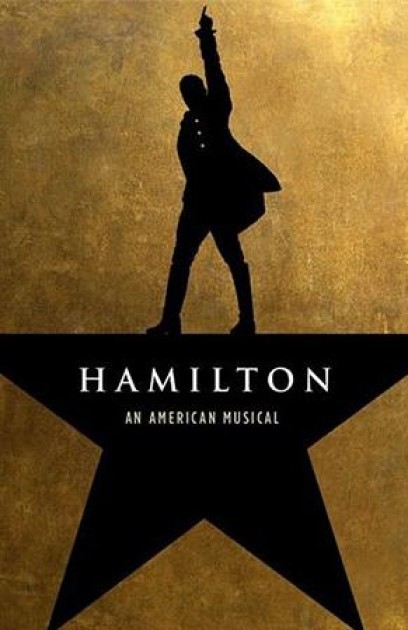 Rehearsal: January 16, 2017
Open: March 14, 2017
A new musical about Alexander Hamilton, one of our country's Founding Fathers and the first Secretary of the Treasury.
For The Record:
This production is on hiatus, due to the COVID 19 restrictions, until at least January 26, 2021. Specific further tour stops are TBA.

| | | |
| --- | --- | --- |
| (3/10/17 - 8/5/17) | San Francisco, CA | (Orpheum (San Fran)) |
| (8/11/17 - 12/30/17) | Los Angeles, CA | (Pantages Hollywood) |
| (1/6/18 - 1/28/18) | San Diego, CA | (Civic Theatre) |
| (1/30/18 - 2/25/18) | Tempe, AZ | (ASU Gammage) |
| (2/27/18 - 4/1/18) | Denver, CO | (Denver Center - Buell Theatre) |
| (4/3/18 - 4/22/18) | St. Louis, MO | (Fox Theatre) |
| (4/24/18 - 5/20/18) | Houston, TX | (Hobby Center - TUTS) |
| (5/22/18 - 6/10/18) | Atlanta, GA | (Fox Theatre) |
| (6/12/18 - 9/16/18) | Washington, DC | (Kennedy Center - Opera House) |
| (9/18/18 - 11/18/18) | Boston, MA | (Boston Opera House) |
| (11/20/18 - 12/9/18) | Buffalo, NY | (Shea's PAC) |
| (12/11/18 - 12/30/18) | Hartford, CT | (The Bushnell - Mortensen Hall) |
| (1/1/19 - 1/27/19) | Pittsburgh, PA | (Benedum Center for the Arts) |
| (1/29/19 - 2/17/19) | Columbus, OH | (Ohio Theatre) |
| (2/19/19 - 3/10/19) | Cincinnati, OH | (Aronoff Center - P&G) |
| (3/12/19 - 4/21/19) | Detroit, MI | (Fisher Theatre) |
| (4/23/19 - 5/12/19) | Rochester, NY | (Auditorium Theatre) |
| (5/14/19 - 6/2/19) | East Lansing , MI | (Wharton Center) |
| (6/4/19 - 6/23/19) | Louisville, KY | (The Kentucky Center) |
| (6/25/19 - 7/21/19) | Baltimore, MD | (Hippodrome) |
| (7/23/19 - 8/11/19) | Providence, RI | (Providence PAC) |
| (8/13/19 - 8/25/19) | Schenectady, NY | (Proctor's Theatre) |
| (8/27/19 - 11/17/19) | Philadelphia, PA | (Forrest Theatre) |
| (11/19/19 - 12/8/19) | Richmond, VA | (Altria Theater) |
| (12/10/19 - 10/29/19) | Norfolk, VA | (Chrysler Hall) |
| (1/1/20 - 1/12/20) | Naples, FL | (Artis-Naples - Hayes Hall) |
| (1/28/20 - 2/16/20) | West Palm Beach, FL | (Kravis Center) |
| (2/18/20 - 3/15/20) | Miami, FL | (Arsht Center) |
| (3/17/20 - 3/29/20) | Jacksonville, FL | (Times Union Center) |
| (5/5/20 - 6/7/20) | St. Louis, MO | (Fox Theatre) |
| (8/4/20 - 9/6/20) | Atlanta, GA | (Fox Theatre) |