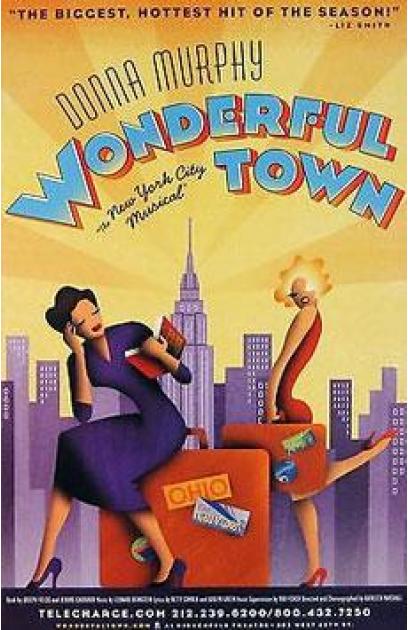 Theatre:
Al Hirschfeld
(November 05, 2003 - January 30, 2005 )
Preview: November 5, 2003
Open: November 23, 2003
Close: January 30, 2005
Running Time: 2hrs 40mins
A musical based on Joseph A. Fields and Jerome Chodorov's 1940 play "My Sister Eileen", which is itself based on the collection of short stories by Ruth McKenney of the same name. "Wonderful Town" follows sisters Ruth and Eileen Sherwood, who travel to New York City from Columbus, Ohio in search of love and fortune.
For The Record:
The original production of "Wonderful Town" opened at the Winter Garden on Feb 25, 1953 under the auspices of Robert Fryer. George Abbott directed a cast headed by Rosalind Russell, Edith Adams, Nathaniel Frey, Dody Goodman, George Gaynes & Cris Alexander. Donald Saddler was the Choreographer. The score includes "Ohio," "One Hundred Easy Ways," "A Quiet Girl," "It's Love" & "The Wrong Note Rag." This current production will be largely based on the ENCORES! Great American Musicals in Concert (Jack Viertel, Artistic Dir) production which was done at City Center from May 4 - May 7, 2000.
Total Gross: $29,830,255
Average Weekly Gross: $458,927
Total Attendance: 449,677
Average Weekly Attendance: 61%