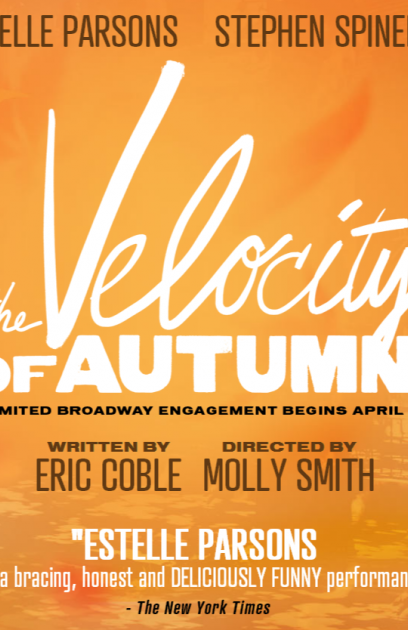 Theatre:
Booth
(April 01, 2014 - May 04, 2014 )
Rehearsal: March 24, 2014
Preview: April 1, 2014
Open: April 21, 2014
Close: May 4, 2014
Play - New York Premiere
Running Time: 1hr 30mins
"The Velocity of Autumn" swirls around 80-year-old Alexandra, an artist facing the indignities of old age and her family's insistence on moving her to a nursing home. With nothing to lose, Alexandra has locked herself in her Brooklyn brownstone with a pile of Molotov cocktails and is now in a standoff with her children and the police. When Alexandra is visited by her youngest son Chris -- who has climbed into her second floor window ending a 20-year absence from her life -- in the blink of an eye the emotional bombs start detonating.
For The Record:
"The Velocity of Autumn" had its World Premiere at Boise Contemporary Theater in Idaho in April 2011, and played Cleveland's Beck Center for the Arts in Ohio in April 2012.
Total Gross: $544,617
Average Weekly Gross: $108,923
Total Attendance: 19,293
Average Weekly Attendance: 67%