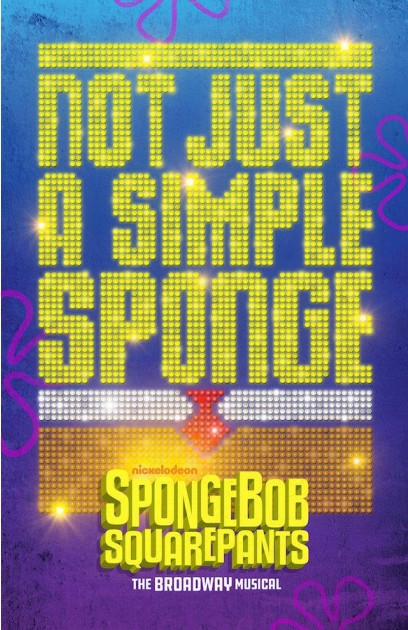 Theatre:
Palace
(November 06, 2017 - September 16, 2018 )
Rehearsal: September 25, 2017
Preview: November 6, 2017
Open: December 4, 2017
Close: September 16, 2018
Musical - New York Premiere
Running Time: 2hr 30mins
The end is near. Only one sponge can save the day. But he's going to need help from some of the greatest songwriters in rock and pop music history.
Yolanda Adams, Steven Tyler and Joe Perry of Aerosmith, Sara Bareilles, Jonathan Coulton, Dirty Projectors, Alex Ebert of Edward Sharpe & The Magnetic Zeros, The Flaming Lips, John Legend, Lady Antebellum, Cyndi Lauper, Panic! At the Disco, Plain White T's, They Might Be Giants and T.I., and a song by David Bowie with additional lyrics byJonathan Coulton
For The Record:
"The SpongeBob Musical" played its World Premiere in Chicago at the Oriental in June 2016.
Total Gross: $37,315,338
Average Weekly Gross: $829,230
Total Attendance: 485,793
Average Weekly Attendance: 85%