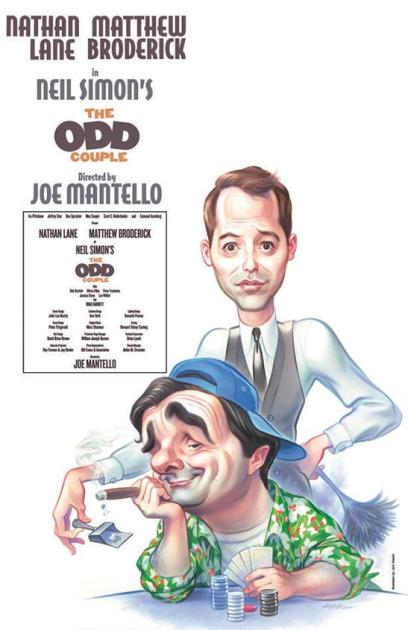 Theatre:
Brooks Atkinson
(October 04, 2005 - June 04, 2006 )
Preview: October 4, 2005
Open: October 27, 2005
Close: June 4, 2006
Running Time: 2hrs 10mins
"The Odd Couple" follows two mismatched friends, Felix Unger and Oscar Madison. Felix is a neurotic, neat, newswriter. who moves in with his longtime childhood friend, Oscar Madison, a sports journalist, after having been thrown out by his wife. Oscar is the exact opposite of him: sloppy, messy, and doesn't eat the right foods. Felix's cleaning, hygienic tips, and healthiness annoys Oscar while Oscar's crazy world of living like a pig upsets Felix. But in the process they learn that love, trust, and friendship are more important than living in different worlds.
For The Record:
"The Odd Couple" originally opened on Broadway on March 10th, 1965 at the Plymouth Theatre under the auspices of Saint Subber and starred Art Carney as Felix, Walter Matthau as Oscar and directed by Mike Nichols and played 966 performances. In 1968, the play was adapted into a major motion picture by Paramount Pictures with screenplay by Mr Simon and starring Jack Lemmon as Felix, Walter Matthau reprising the role of Oscar and directed by Gene Saks. The success of the play and the film spawned several television adaptations. Firstly on ABC running from 1970-1975 starring Tony Randall as Felix and Jack Klugman as Oscar. Then in 1982, also on ABC, running until 1983 featuring a pre-dominantly black cast including Ron Glass as Felix and Demond Wilson as Oscar. And currently on CBS, having premiered on February 19th, 2015, starring Matthew Perry as Oscar and Thomas Gibson as Felix, under the auspices of Mr Perry. It also inspired a cartoon series, entitled The Oddball Couple from 1975 until 1977 on ABC. In 1985, the play was adapted once again, this time to incorporate a primarily female cast. This revival opened at the Broadhurst Theatre on June 11th, 1985 and starred Sally Struthers as Florence Ungar, Rita Moreno as Olive Madison, with a cast that included Marilyn Cooper, Mary Louise Wilson and Tony Shalhoub & Lewis J Stalden as the Costazuela brothers.
Total Gross: $28,938,436
Average Weekly Gross: $826,812
Total Attendance: 296,923
Average Weekly Attendance: 99%