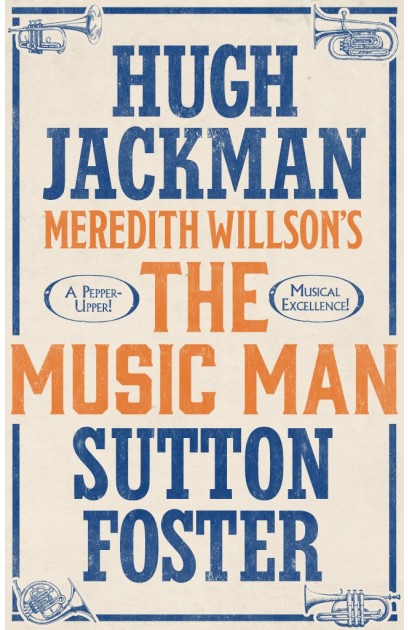 Theatre:
Winter Garden
(December 20, 2021 - January 01, 2023 )
Rehearsal: October 25, 2021
Preview: December 20, 2021
Open: February 10, 2022
Close: January 1, 2023
Running Time: 2hrs 45mins
Performances: Tues (7pm), Wed (2&8), Thurs (7pm), Fri (8pm), Sat (2&8), Sun (3pm)
"The Music Man" follows con man Harold Hill, who poses as a boys' band organizer and leader and sells band instruments and uniforms to naive townsfolk before skipping town with the cash. In River City, Iowa, prim librarian and piano teacher Marian Paroo sees through him, but when Hill helps her younger brother overcome his fear of social interactions due to his lisp, Marian begins to fall in love with Harold. Harold, in turn falling for Marian, risks being caught to win her.
For The Record:
This revival was delayed due COVID 19 health restrictions. It was originally sscheduled to begin rehearsals on in July 2020, begin previews on September 9, and open on October 15; then it postponed to Previews beginning April 7, 2021 and Opening on May 20, 2021 before the current dates.
Last Week's Gross: $2,734,857
Last Week's Capacity: 95%
Total Gross to Date: $114,219,610
Cast
| | | |
| --- | --- | --- |
| Emma Crow | Zaneeta Shinn | 12/20/2021 - 01/01/2023 |
Upcoming