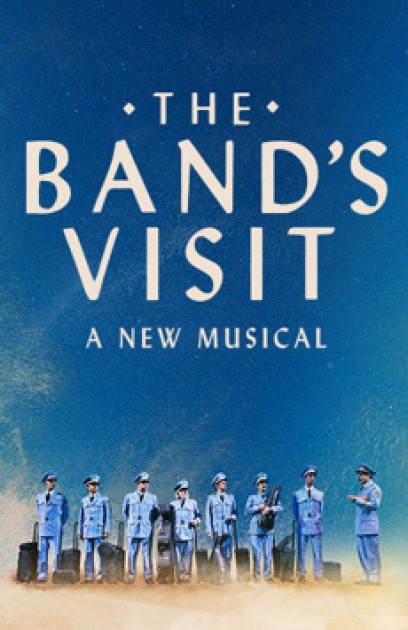 Rehearsal: May 20, 2019
Preview: June 25, 2019
Open: July 9, 2019
Based on the film by Eran Kolirin, the musical tells the story of an Egyptian Police Band sent to the middle of the desert after a mixup at the Israeli border.
For The Record:
This production is on hiatus due to COVID 19 restrictions. New dates are TBA.

| | | |
| --- | --- | --- |
| (6/25/19 - 6/30/19) | Providence, RI | (Providence PAC) |
| (7/9/19 - 8/4/19) | Washington, DC | (Kennedy Center - Eisenhower) |
| (8/6/19 - 8/25/19) | Charlotte, NC | (Knight Theater) |
| (8/27/19 - 9/1/19) | Greenville, SC | (Peace Concert Hall) |
| (9/3/19 - 9/15/19) | Chicago, IL | (Cadillac Palace Theatre) |
| (9/17/19 - 10/20/19) | Toronto, ON | (Ed Mirvish Theatre) |
| (10/29/19 - 11/3/19) | Norfolk, VA | (Chrysler Hall) |
| (11/5/19 - 11/24/19) | Cleveland, OH | (Playhouse Square) |
| (11/26/19 - 12/1/19) | Milwaukee, WI | (Marcus Center - Uihlein Hall) |
| (12/3/19 - 12/8/19) | Louisville, KY | (The Kentucky Center) |
| (12/10/19 - 12/15/19) | Minneapolis, MN | (Orpheum Theater (MN)) |
| (12/31/19 - 1/5/20) | Schenectady, NY | (Proctor's Theatre) |
| (1/7/20 - 1/19/20) | Philadelphia , PA | (Kimmel Center - Verizon Hall) |
| (1/21/20 - 1/26/20) | Atlanta, GA | (Fox Theatre) |
| (1/28/20 - 2/2/20) | Houston, TX | (Hobby Center - TUTS) |
| (2/4/20 - 2/23/20) | Dallas, TX | (Winspear Opera House) |
| (2/25/20 - 3/8/20) | St. Louis, MO | (Fox Theatre) |
| (3/10/20 - 3/15/20) | Pittsburgh, PA | (Benedum Center for the Arts) |
| (3/17/20 - 3/22/20) | Baltimore, MD | (Hippodrome) |
| (3/24/20 - 4/5/20) | Boston, MA | (Boston Opera House) |
| (4/7/20 - 4/19/20) | Durham, NC | (Durham Performing Arts Center) |
| (4/21/20 - 4/26/20) | Hartford, CT | (The Bushnell - Mortensen Hall) |
| (5/5/20 - 5/10/20) | Appleton, WI | (Fox Cities PAC) |
| (5/12/20 - 5/17/20) | Des Moines, IA | (Civic Center) |
| (5/19/20 - 5/23/20) | Fayetteville, AR | (Walton Arts Center) |
| (5/27/20 - 6/21/20) | San Francisco, CA | (Golden Gate Theater) |
| (6/23/20 - 6/28/20) | Las Vegas, NV | (The Smith Center ) |
| (7/7/20 - 7/26/20) | Los Angeles, CA | (Pantages Hollywood) |
| (7/29/20 - 8/9/20) | Denver, CO | (Denver Center - Buell Theatre) |
| (8/12/20 - 8/23/20) | Costa Mesa, CA | (Segerstrom Center) |
| (12/1/20 - 12/6/20) | Buffalo, NY | (Shea's PAC) |
| (12/8/20 - 12/13/20) | Richmond, VA | (Altria Theater) |
| (3/17/21 - 4/4/21) | Los Angeles, CA | (Dolby) |
| (4/13/21 - 4/25/21) | Costa Mesa, CA | (Segerstrom Center) |