Sweeney Todd - The Demon Barber of Fleet Street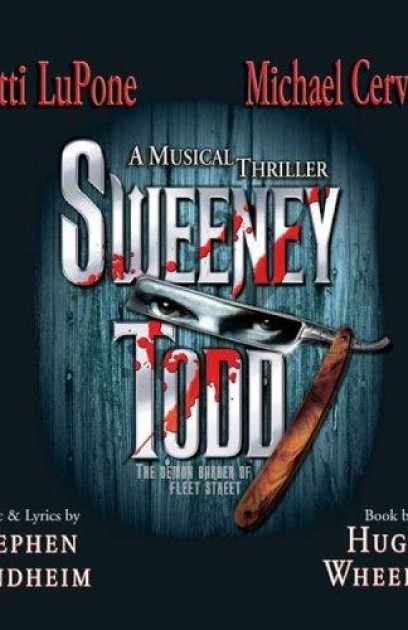 Theatre:
Eugene O'Neill
(October 03, 2005 - September 03, 2006 )
Preview: October 3, 2005
Open: November 3, 2005
Close: September 3, 2006
Running Time: 2hrs 20mins
It is the 19th century, Benjamin Barker, a skilled barber, returns to London assuming the alias "Sweeney Todd". Fifteen years earlier, Barker had been falsely charged and banished by the corrupt Judge Turpin, who had lusted after his wife, Lucy. At Mrs. Nellie Lovett's meat pie shop on Fleet Street, he learns that Lucy poisoned herself with arsenic after Turpin raped her. Todd's teenage daughter Johanna is now Turpin's ward and, like her mother before her, is the object of Turpin's lust. Todd vows revenge, reopening his barber shop in the upstairs flat after Mrs. Lovett returns his old straight razors to him.
For The Record:
The original production of "Sweeney Todd" opened at the Uris (Gershwin) on Mar 1, 1979 under the auspices of Richard Barr, Charles Woodward, Robert Fryer, Mary Lea Johnson & Martin Richards in assoc w/Dean Manos & Judy Manos. Harold Prince directed a cast which included Len Cariou & Angela Lansbury. It was revived on B'way in 1989 at Circle in the Square. Susan H Schulman was the Director and Bob Gunton & Beth Fowler headed the cast.
Sidelight: This revival was originally presented in London by the Watermill Theatre at the Trafalgar on July 27, 2004. It subsequently transferred to the West End's New Ambassadors on Oct 13, 2004 (to 2/5/05).
Total Gross: $22,218,240
Average Weekly Gross: $462,880
Total Attendance: 302,836
Average Weekly Attendance: 71%