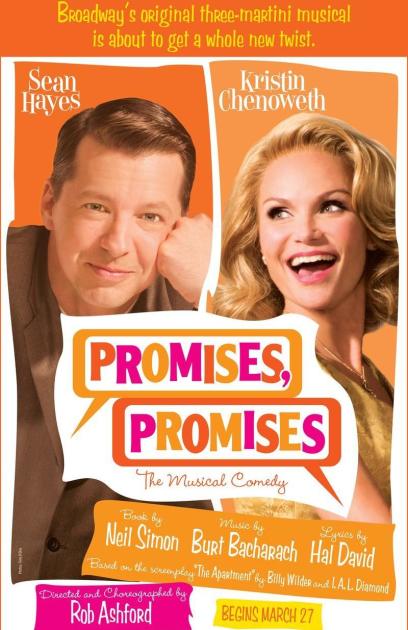 Theatre:
Broadway
(March 28, 2010 - January 02, 2011 )
Rehearsal: February 8, 2010
Preview: March 28, 2010
Open: April 25, 2010
Close: January 2, 2011
Running Time: 2hrs 40mins
Based on the 1960 Academy Award®-winning Billy Wilder film The Apartment that starred Jack Lemmon and Shirley MacLaine, PROMISES, PROMISES tells the story of the Consolidated Life Insurance Company and Chuck Baxter, one of its charming young employees. In an effort to advance at the company, Chuck lends executives his apartment for their extramarital romantic trysts. But things become slightly complicated when Fran Kubelik, the object of Chuck's affection, becomes the mistress of one of his executives.
For The Record:
"Promises, Promises" opened on Dec 1, 1968 at the Shubert under the auspices of David Merrick. Robert Moore directed and Michael Bennett choreographed a cast which featured Jerry Orbach (Chuck) & Jill O'Hara (Fran).
Total Gross: $42,951,936
Average Weekly Gross: $1,047,608
Total Attendance: 475,458
Average Weekly Attendance: 86%