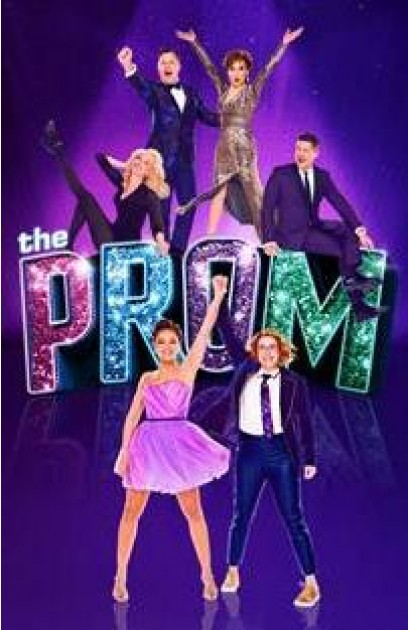 Rehearsal: September 28, 2021
Preview: October 30, 2021
Open: November 2, 2021
Close: October 2, 2022
In 'The Prom", Emma becomes an instant outcast - and a national headline - when her high school cancels the prom rather than let her attend with her girlfriend. Sensing a chance to correct an injustice -and maybe get some good publicity along the way - a group of fading celebrities takes up the cause, and invades Emma's small Indiana town. But their bumbling attempts at social activism make the situation far worse than they - or Emma - could have ever imagined. Cultures clash and the town erupts in chaos. The community's reputation, Emma's future and the actors' careers, all hang in the balance, until a true hero emerges to save the day.
| | | |
| --- | --- | --- |
| (12/7/01 - 12/12/21) | Orlando, FL | (Dr Phillips Center) |
| (10/30/21 - 10/30/21) | Paducah, KY | (The Carson Center) |
| (11/2/21 - 11/21/21) | Cleveland, OH | (PlayhouseSquare - Connor Palace) |
| (12/14/21 - 12/19/21) | Fort Lauderdale, FL | (Broward Center) |
| (12/28/21 - 1/2/22) | Hershey, PA | (Hershey Theatre) |
| (1/4/22 - 1/16/22) | Washington, DC | (Kennedy Center - Eisenhower) |
| (1/18/22 - 1/23/22) | Baltimore, MD | (Hippodrome) |
| (1/25/22 - 2/6/22) | St. Louis, MO | (Fox Theatre) |
| (2/15/22 - 2/20/22) | Tampa, FL | (Straz Center) |
| (2/22/22 - 2/27/22) | Nashville , TN | (Tennessee PAC) |
| (3/1/22 - 3/6/22) | Schenectady, NY | (Proctor's Theatre) |
| (3/8/22 - 3/13/22) | Providence, RI | (Providence PAC) |
| (3/22/22 - 3/27/22) | Madison, WI | (Overture Center for the Arts) |
| (4/12/22 - 4/17/22) | Minneapolis, MN | (Orpheum Theater (MN)) |
| (4/19/22 - 4/24/22) | Chicago, IL | (Cadillac Palace Theatre) |
| (4/26/22 - 5/1/22) | Worcester, MA | (Hanover Theatre) |
| (5/31/22 - 6/19/22) | Seattle, WA | (5th Avenue Theatre) |
| (6/21/22 - 7/17/22) | San Francisco, CA | (Golden Gate Theater) |
| (7/26/22 - 7/31/22) | Dallas, TX | (AT&T PAC - McDermott) |
| (8/9/22 - 9/11/22) | Los Angeles, CA | (Ahmanson Theatre) |
| (9/13/22 - 9/18/22) | Kansas City, MO | (Kansas City Starlight Theatre) |
| (9/27/22 - 10/2/22) | Buffalo, NY | (Shea's PAC) |