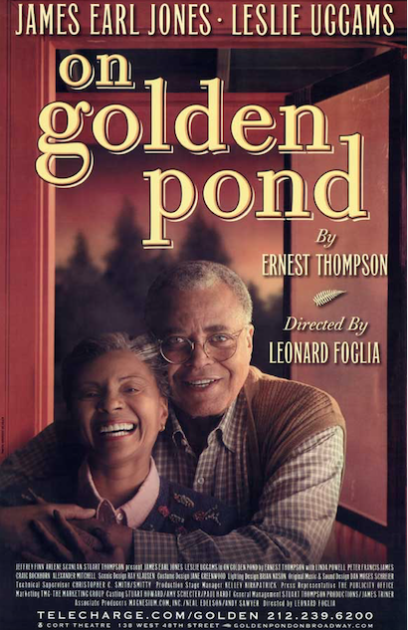 Theatre:
Cort
(March 22, 2005 - June 26, 2005 )
Preview: March 22, 2005
Open: April 7, 2005
Close: June 26, 2005
Running Time: 2hrs 15mins
Aging couple Ethel and Norman Thayer, spend each summer at their home on a lake called Golden Pond. On this summer they are visited by daughter Chelsea with her fiancé and his son in tow resurfacing the turbulent relationship the young woman shared with her father growing up, and the difficulties faced by a couple in the twilight years of a long marriage.
For The Record:
This revival originally premiered at the Kennedy Center in Washington, DC on Sept 28, 2004. The original production of "On Golden Pond" opened on Feb 28, 1979 at the New Apollo under the auspices of Arthur Cantor & Greer Garson. Craig Anderson directed a cast headed by Tom Aldredge & Frances Sternhagen. The production re-opened at the Century on Sept 10, 1979 (to 4/20/80) under the auspices of Frank Gero, Frederick M Zollo & Mark Gero. A film version was released in 1981 and starred Katharine Hepburn, Henry Fonda & Jane Fonda.
Total Gross: $2,947,551
Average Weekly Gross: $210,539
Total Attendance: 54,757
Average Weekly Attendance: 46%