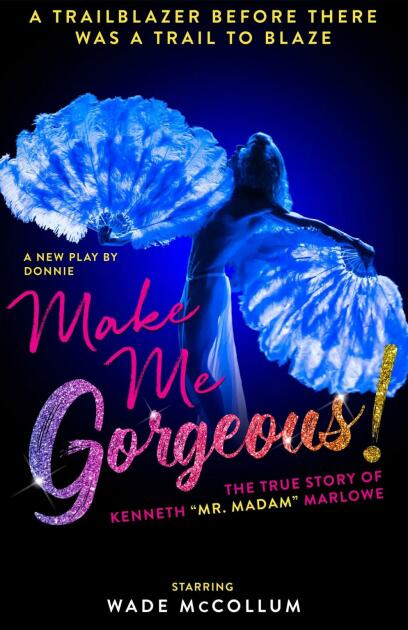 Theatre:
Playhouse 46
(November 10, 2023 - December 31, 2023 )
Rehearsal: October 24, 2023
Preview: November 10, 2023
Open: November 15, 2023
Close: December 30, 2023
Play - New York Premiere
Running Time: 1hr 30mins
"Make Me Gorgeous!" is the fabulous and incredible true story of Kenneth Marlowe, an oft-overlooked trailblazer in LGBTQ+ history. Described as one of mid-Century America's gayest and most openly homosexual personalities, Marlowe took on many roles in life. Kenneth was a private hairdresser to the stars; the madam of a notorious gay prostitution ring in Hollywood; an author; a hustler; a female impersonator; a private in the U.S. Army; a call boy; a Christian missionary; a mortuary cosmetologist; a newspaper columnist … and for the final decade of an incredibly lived life, Marlowe was a woman, having transitioned to become Kate Marlowe.