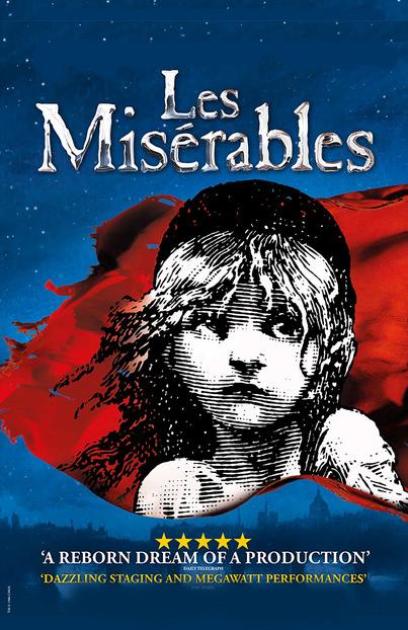 Rehearsal: August 10, 2017
Preview: September 21, 2017
Open: September 23, 2017
Based on Victor Hugo's 1862 novel of the same name, set in early 19th-century France, the plot follows the stories of many characters as they struggle for redemption and revolution. An ensemble that includes prostitutes, student revolutionaries, factory workers, and others join the lead characters.
For The Record:
This production is on hiatus, due to the COVID 19 restrictions. Specific dates are TBA.

| | | |
| --- | --- | --- |
| (9/21/17 - 9/30/17) | Providence, RI | (Providence PAC) |
| (10/3/17 - 10/8/17) | Hartford, CT | (The Bushnell - Mortensen Hall) |
| (10/11/17 - 10/29/17) | Chicago, IL | (Cadillac Palace Theatre) |
| (10/31/17 - 11/5/17) | Greenville, SC | (Peace Concert Hall) |
| (11/14/17 - 11/19/17) | Nashville , TN | (Tennessee PAC) |
| (11/21/17 - 11/26/17) | Grand Rapids, MI | (DeVos Place Performance Hall) |
| (11/29/17 - 12/3/17) | Little Rock, AR | (Robinson Center Music Hall) |
| (12/5/17 - 12/10/17) | Kansas City, MO | (Music Hall Kansas City) |
| (12/13/17 - 12/17/17) | Charlotte, NC | (Ovens Auditorium) |
| (12/20/17 - 1/7/18) | Washington, DC | (National Theatre) |
| (1/9/18 - 1/21/18) | Philadelphia, PA | (Academy of Music) |
| (1/23/18 - 1/28/18) | Norfolk, VA | (Chrysler Hall) |
| (1/30/18 - 2/4/18) | Durham, NC | (Durham Performing Arts Center) |
| (2/13/18 - 2/18/18) | Ottawa ON, Ontario | (National Arts Centre) |
| (2/20/18 - 2/25/18) | Schenectady, NY | (Proctor's Theatre) |
| (3/13/18 - 3/18/18) | Indianapolis, IN | (Murat at Old National Centre) |
| (3/20/18 - 4/1/18) | Appleton, WI | (Fox Cities PAC) |
| (3/27/18 - 4/1/18) | Milwaukee, WI | (Marcus Center - Uihlein Hall) |
| (4/3/18 - 4/8/18) | Madison, WI | (Overture Center for the Arts) |
| (4/10/18 - 4/15/18) | Louisville, KY | (The Kentucky Center) |
| (4/17/18 - 4/22/18) | Des Moines, IA | (Civic Center) |
| (4/24/18 - 5/6/18) | Dallas, TX | (Music Hall) |
| (5/15/18 - 5/20/18) | Tempe, AZ | (ASU Gammage) |
| (5/29/18 - 6/3/18) | San Diego, CA | (Civic Theatre) |
| (6/6/18 - 6/17/18) | Seattle, WA | (Paramount (WA)) |
| (6/19/18 - 6/24/18) | Portland, OR | (Keller Auditorium) |
| (7/3/18 - 7/8/18) | Edmonton, Alberta | (Northern Alberta Jubilee Auditorium) |
| (7/10/18 - 7/15/18) | Vancouver, BC | (Queen Elizabeth Theatre (Civic Theatres)) |
| (7/17/18 - 7/22/18) | Calgary, Alberta | (Southern Alberta Jubilee Auditorium) |
| (7/25/18 - 8/5/18) | Denver, CO | (Denver Center - Buell Theatre) |
| (8/8/18 - 8/26/18) | San Francisco, CA | (Orpheum (San Fran)) |
| (9/4/18 - 9/9/18) | Tucson, AZ | (Centennial Hall) |
| (9/12/18 - 9/16/18) | McAllen , TX | (McAllen PAC) |
| (9/18/18 - 9/23/18) | Oklahoma City, OK | (Civic Center Music Hall) |
| (9/25/18 - 9/30/18) | Houston, TX | (Hobby Center - TUTS) |
| (10/9/18 - 10/14/18) | Baltimore, MD | (Hippodrome) |
| (10/23/18 - 10/28/18) | Richmond, VA | (Altria Theater) |
| (10/30/18 - 11/18/18) | Cleveland, OH | (PlayhouseSquare - Connor Palace) |
| (11/20/18 - 11/24/18) | Rochester, NY | (Auditorium Theatre) |
| (11/27/18 - 12/9/18) | Memphis, TN | (Orpheum Theatre (TN)) |
| (12/4/18 - 12/9/18) | Iowa City, IA | (Hancher) |
| (12/11/18 - 12/16/18) | St. Louis, MO | (Fox Theatre) |
| (12/18/18 - 12/30/18) | Minneapolis, MN | (Orpheum Theater (MN)) |
| (1/8/19 - 1/13/19) | New Orleans, LA | (Saenger Theatre) |
| (1/15/19 - 1/20/19) | Tampa, FL | (Straz Center) |
| (1/22/19 - 1/27/19) | Jacksonville, FL | (Times Union Center) |
| (2/5/19 - 2/10/19) | Miami, FL | (Arsht Center) |
| (2/12/19 - 2/17/19) | West Palm Beach, FL | (Kravis Center) |
| (2/26/19 - 3/3/19) | Atlanta, GA | (Fox Theatre) |
| (3/1/19 - 3/24/19) | Fort Myers, FL | (Barbara B. Mann PAC) |
| (3/26/19 - 3/31/19) | Syracuse , NY | (Landmark Theatre) |
| (4/2/19 - 4/7/19) | Dayton , OH | (Schuster PAC) |
| (4/9/19 - 4/14/19) | Toledo, OH | (Stranahan Theater) |
| (4/16/19 - 4/28/19) | Boston, MA | (Boston Opera House) |
| (5/7/19 - 6/2/19) | Los Angeles, CA | (Pantages Hollywood) |
| (6/5/19 - 6/9/19) | Colorado Springs, CO | (Pikes Peak Center) |
| (6/12/19 - 6/16/19) | Sioux Falls, SD | (Washington Pavilion) |
| (6/25/19 - 6/30/19) | Fort Worth, TX | (Bass Hall) |
| (7/9/19 - 7/27/19) | Chicago, IL | (Cadillac Palace Theatre) |
| (7/30/19 - 8/4/19) | Boise, ID | (Morrison Center) |
| (8/6/19 - 8/11/19) | Spokane, WA | (First Interstate Center) |
| (9/17/19 - 9/22/19) | San Antonio, TX | (Majestic Theatre) |
| (9/24/19 - 9/29/19) | Tulsa, OK | (Tulsa PAC - Chapman Hall) |
| (10/8/19 - 10/20/19) | Fort Lauderdale, FL | (Broward Center) |
| (10/22/19 - 10/27/19) | Orlando, FL | (Dr Phillips Center) |
| (11/5/19 - 11/10/19) | Chattanooga, TN | (Tivoli Theatre) |
| (11/12/19 - 11/17/19) | East Lansing , MI | (Wharton Center) |
| (11/19/19 - 11/24/19) | Columbus, OH | (Ohio Theatre) |
| (11/26/19 - 12/1/19) | Pittsburgh, PA | (Benedum Center for the Arts) |
| (12/3/19 - 12/8/19) | Waterbury, CT | (Palace Theater (CT) ) |
| (12/10/19 - 12/15/19) | Buffalo, NY | (Shea's PAC) |
| (1/7/20 - 1/12/20) | Birmingham, AL | (Birmingham Jefferson - Concert Hall) |
| (1/14/20 - 1/19/20) | Omaha, NE | (Orpheum Theater (Omaha)) |
| (1/21/20 - 1/26/20) | Springfield, MO | (Hammons Hall) |
| (1/28/20 - 2/2/20) | Kalamazoo, MI | (Miller Auditorium) |
| (2/4/20 - 2/9/20) | Bloomington, IN | (IU Auditorium) |
| (2/11/20 - 2/23/20) | Cincinnati, OH | (Aronoff Center - P&G) |
| (2/26/20 - 3/1/20) | Sarasota, FL | (Van Wezel Hall) |
| (3/3/20 - 3/8/20) | Greenville, SC | (Peace Concert Hall) |
| (3/10/20 - 3/15/20) | Durham, NC | (Durham Performing Arts Center) |
| (3/17/20 - 3/29/20) | Philadelphia, PA | (Academy of Music) |
| (4/15/20 - 4/19/20) | Eugene, OR | (Hult Center ) |
| (4/28/20 - 5/3/20) | Fresno, CA | (Saroyan Theater) |
| (6/2/20 - 6/14/20) | Boston, MA | (Boston Opera House) |
| (6/16/20 - 8/23/20) | Toronto, ON | (Princess of Wales) |
| (10/6/20 - 10/18/20) | Costa Mesa, CA | (Segerstrom Center) |