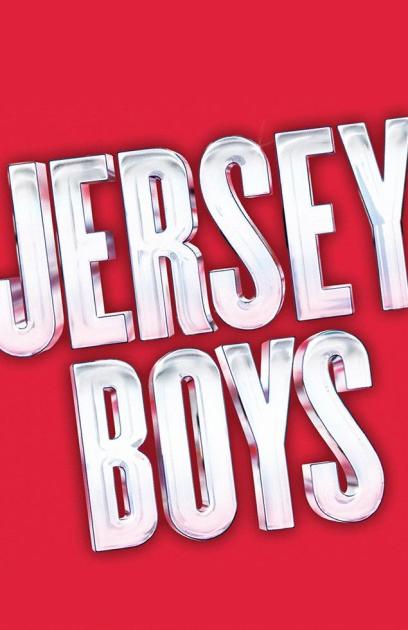 Rehearsal: November 4, 2021
Preview: December 12, 2021
Open: December 28, 2021
Jersey Boys tells the rags-to-riches story of one of the greatest successes in pop music history. Go behind the music of Frankie Valli & the Four Seasons, and meet four blue-collar kids working their way from the streets of Newark to the heights of stardom. The story of the legendary Four Seasons, blue-collar boys who formed a singing group and reached the heights of rock 'n' roll stardom. The musical features such Seasons' hits as "Big Girls Don't Cry," "Oh What a Night" and "Can't Take My Eyes Off of You."
| | | |
| --- | --- | --- |
| (12/12/21 - 12/18/21) | Detroit, MI | (Detroit Music Hall) |
| (12/18/21 - 1/9/22) | Dallas, TX | (Music Hall) |
| (1/11/22 - 1/11/22) | Jacksonville, FL | (Times Union Center) |
| (1/12/22 - 1/13/22) | Clearwter, FL | (Ruth Eckerd Hall) |
| (1/14/22 - 1/16/22) | The Villages, FL | (Morse PAC) |
| (1/18/22 - 1/20/22) | Chattanooga, TN | (Tivoli Theatre) |
| (1/21/22 - 1/21/22) | Statesboro, GA | (Georgia Southern PAC) |
| (1/23/22 - 1/23/22) | Columbia, SC | (Koger Center) |
| (1/25/22 - 1/26/22) | Sarasota, FL | (Van Wezel Hall) |
| (1/28/22 - 1/30/22) | Norfolk, VA | (Chrysler Hall) |
| (1/31/22 - 1/31/22) | Roanoke, VA | (Berglund Center) |
| (2/1/22 - 2/1/22) | Reading, PA | (Santander Performing Arts Center) |
| (2/3/22 - 2/5/22) | Minneapolis, MN | (Orpheum Theater (MN)) |
| (2/8/22 - 2/8/22) | Eugene, OR | (Hult Center ) |
| (2/9/22 - 2/10/22) | Yakiuma, WA | (Capitol Theatre) |
| (2/11/22 - 2/13/22) | Spokane, WA | (First Interstate Center) |
| (2/22/22 - 2/23/22) | Santa Barbara, CA | (Granada Theatre) |
| (2/24/22 - 2/24/22) | Thousand Oaks, CA | (Civic Arts Plaza) |
| (2/25/22 - 2/27/22) | Palm Desert, CA | (McCallum Theatre) |
| (3/14/22 - 3/15/22) | Modesto, CA | (Gallo Center for the Arts) |
| (3/17/22 - 3/17/22) | Phoenix, AZ | (Orpheum) |
| (3/18/22 - 3/20/22) | Tucson, AZ | (Centennial Hall) |
| (3/25/22 - 3/27/22) | Lincoln, NE | (Lied Center) |
| (4/4/22 - 4/5/22) | Lubbock, TX | (The Buddy Holly Hall) |
| (4/7/22 - 4/10/22) | Albuquerque, NM | (Popejoy Hall) |
| (4/13/22 - 4/13/22) | Fargo, ND | (Fargodome) |
| (4/15/22 - 4/17/22) | Denver, CO | (Denver Center - Buell Theatre) |
| (4/19/22 - 4/19/22) | West Lafayette, IN | (Elliott Hall of Music) |
| (4/20/22 - 4/20/22) | Flint, MI | (The Whiting) |
| (4/21/22 - 4/21/22) | Fort Wayne, IN | (Embassy Theatre) |
| (4/22/22 - 4/23/22) | Bloomington, IN | (IU Auditorium) |
| (4/24/22 - 4/24/22) | Owensboro, KY | (Riverpark Center) |
| (4/26/22 - 4/26/22) | Lima, OH | (Veterans Memorial Civic Center) |
| (4/27/22 - 4/27/22) | Charleston, WV | (Clay Center) |
| (4/28/22 - 4/28/22) | Las Vegas, NV | (Crown Theater) |
| (5/3/22 - 5/8/22) | Chicago, IL | (CIBC Theatre) |
| (5/10/22 - 5/22/22) | Houston, TX | (Hobby Center - TUTS) |
| (6/1/22 - 6/1/22) | Utica, NY | (Stanley Theatre) |
| (6/4/22 - 6/4/22) | Waterbury, CT | (Palace Theater (CT) ) |
| (6/5/22 - 6/5/22) | Easton, PA | (State Theatre) |
| (6/7/22 - 6/12/22) | Pittsburgh, PA | (Benedum Center for the Arts) |
| (6/14/22 - 6/26/22) | Washington, DC | (Kennedy Center - Eisenhower) |
| (7/21/22 - 7/21/22) | Toledo, OH | (Valentine) |
| (7/22/22 - 7/23/22) | Milwaukee, WI | (Marcus Center - Uihlein Hall) |
| (7/25/22 - 7/25/22) | Saginaw, MI | (Dow Event Center) |
| (7/27/22 - 7/27/22) | Jacksonville, FL | (Times Union Center) |
| (7/28/22 - 7/28/22) | Statesboro, GA | (Georgia Southern PAC) |
| (7/29/22 - 7/30/22) | Chattanooga, TN | (Memorial Auditorium) |
| (9/13/22 - 9/25/22) | Honolulu, HI | (Blaisdell Concert Hall) |