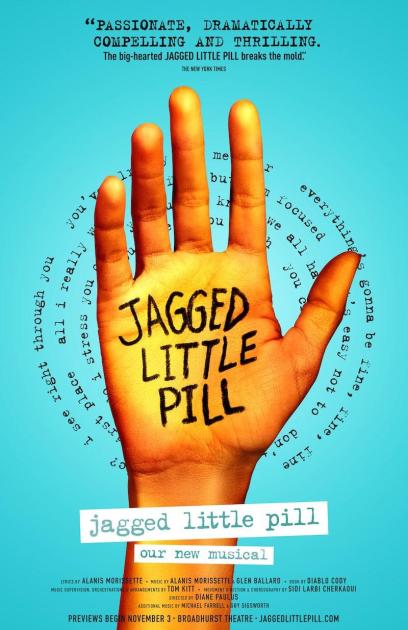 Theatre:
Broadhurst
(November 03, 2019 - March 12, 2020 )
more
Rehearsal: September 23, 2019
Preview: November 3, 2019
Open: December 5, 2019
Musical - New York Premiere
Running Time: 2hrs 40mins
Performances: Tues (7pm), Wed (2&7:30), Thurs (7pm), Fri (8pm), Sat (2&8pm), Sun (3pm)
Introducing nineties anthems including "Ironic," "You Oughta Know," and "Hand In My Pocket," "Jagged Little Pill" (1995) established Canadian singer-songwriter Alanis Morissette as an alternative rock icon.
For The Record:
This production is on hiatus, due to the COVID 19 restrictions. But it will resume performances on October 21, 2021!
"Jagged Little Pill" had its World Premiere at ART in Boston in March 2018. A Lab will take palce in NYC in Dec 2018.
Last Week's Gross Potential: 65%
Last Week's Capacity: 93%
Total Gross to Date: $18,331,491