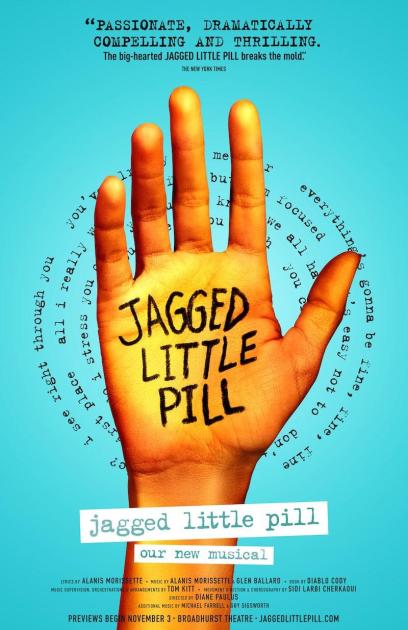 Theatre:
Broadhurst
(November 03, 2019 - )
Rehearsal: September 23, 2019
Preview: November 3, 2019
Open: December 5, 2019
Musical - New York Premiere
Running Time: 2hrs 40mins
Performances: Tues (7pm), Wed (2&7:30), Thurs (7pm), Fri (8pm), Sat (2&8pm), Sun (3pm)
Introducing nineties anthems including "Ironic," "You Oughta Know," and "Hand In My Pocket," "Jagged Little Pill" (1995) established Canadian singer-songwriter Alanis Morissette as an alternative rock icon.
For The Record:
This production is on hiatus, due to the COVID 19 restrictions, until May 30, 2021.
"Jagged Little Pill" had its World Premiere at ART in Boston in March 2018. A Lab will take palce in NYC in Dec 2018.
Last Week's Gross Potential: 65%
Last Week's Capacity: 93%
Total Gross to Date: $18,331,491