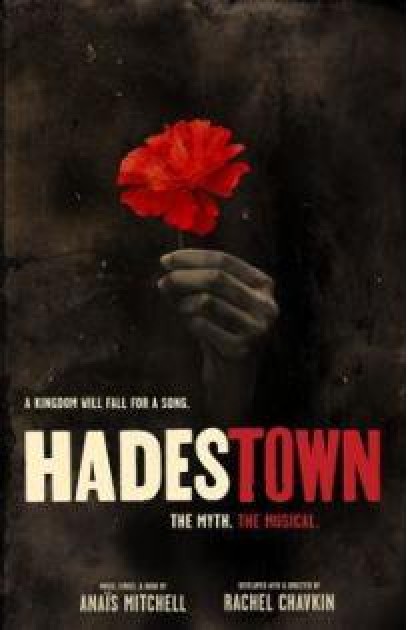 Rehearsal: August 28, 2021
Preview: October 5, 2021
Open: October 15, 2021
This folk opera follows Orpheus' mythical quest to overcome Hades and regain the favor of his one true love, Eurydice. Together we travel from wide open plains where love and music are not enough nourishment to survive the winter, down to "Hadestown", an industrialized world of mindless labor and full stomachs.
For The Record:
This production was delayed by COVID 19 restrictions. It was originally scheduled to begin Perfs on March 16, 2021.
| | | |
| --- | --- | --- |
| (10/5/21 - 10/10/21) | Greenville, SC | (Peace Concert Hall) |
| (10/13/21 - 10/31/21) | Washington, DC | (Kennedy Center - Opera House) |
| (11/2/21 - 11/14/21) | Boston, MA | (Boston Opera House) |
| (11/16/21 - 11/21/21) | Columbus, OH | (Ohio Theatre) |
| (12/14/21 - 12/19/21) | Appleton, WI | (Fox Cities PAC) |
| (12/28/21 - 1/2/22) | New Orleans, LA | (Saenger Theatre) |
| (1/4/22 - 1/9/22) | Houston, TX | (Hobby Center - TUTS) |
| (1/18/22 - 1/31/22) | Dallas, TX | (AT&T PAC - McDermott) |
| (2/1/22 - 2/6/22) | Memphis, TN | (Orpheum Theatre (TN)) |
| (2/22/22 - 2/27/22) | Durham, NC | (Durham Performing Arts Center) |
| (3/15/22 - 3/20/22) | Minneapolis, MN | (Orpheum Theater (MN)) |
| (3/29/22 - 4/3/22) | Omaha, NE | (Orpheum Theater (Omaha)) |
| (4/12/22 - 4/17/22) | Tucson, AZ | (Centennial Hall) |
| (4/19/22 - 4/24/22) | Tempe, AZ | (ASU Gammage) |
| (4/26/22 - 5/29/22) | Los Angeles, CA | (Ahmanson Theatre) |
| (6/7/22 - 7/3/22) | San Francisco, CA | (Orpheum (San Fran)) |
| (7/19/22 - 7/24/22) | Portland, OR | (Keller Auditorium) |
| (8/9/22 - 8/21/22) | Costa Mesa, CA | (Segerstrom Center) |
| (8/30/22 - 9/11/22) | Denver, CO | (Denver Center - Buell Theatre) |
| (9/20/22 - 9/25/22) | Austin, TX | (Bass Concert Hall) |
| (9/27/22 - 10/2/22) | Tulsa, OK | (Tulsa PAC - Chapman Hall) |
| (11/8/22 - 11/13/22) | Charlotte, NC | (Blumenthal - Belk) |
| (12/6/22 - 12/11/22) | Miami, FL | (Arsht Center) |
| (12/13/22 - 12/18/22) | Orlando, FL | (Dr Phillips Center) |
| (2/28/23 - 3/5/23) | Schenectady, NY | (Proctor's Theatre) |
| (3/7/23 - 3/12/23) | Hartford, CT | (The Bushnell - Belding) |
| (3/14/23 - 3/19/23) | Rochester, NY | (Auditorium Theatre) |
| (3/21/23 - 3/26/23) | Providence, RI | (Providence PAC) |
| (3/28/23 - 4/2/23) | Worcester, MA | (Hanover Theatre) |
| (4/4/23 - 4/9/23) | Hershey, PA | (Hershey Theatre) |
| (4/11/23 - 4/16/23) | Baltimore, MD | (Hippodrome) |
| (4/18/23 - 4/30/23) | Cincinnati, OH | (Aronoff Center - P&G) |
| (5/2/23 - 5/7/23) | Milwaukee, WI | (Marcus Center - Uihlein Hall) |
| (5/9/23 - 5/14/23) | Grand Rapids, MI | (DeVos Place Performance Hall) |
| (5/16/23 - 5/21/23) | Louisville, KY | (The Kentucky Center) |
| (5/23/23 - 5/28/23) | Fayetteville, AR | (Walton Arts Center) |
| (5/31/23 - 6/4/23) | Richmond, VA | (Altria Theater) |
| (6/6/23 - 6/11/23) | Washington, DC | (National Theatre) |
| (6/27/23 - 7/2/23) | Fort Worth, TX | (Bass Hall) |
| (9/12/23 - 9/17/23) | San Francisco, CA | (Orpheum (San Fran)) |
| (9/19/23 - 9/24/23) | Sacramento, CA | (Safe Credit Union PAC) |
| (9/26/23 - 10/1/23) | San Jose, CA | (Center for the Performing Arts) |
| (10/3/23 - 10/15/23) | Los Angeles, CA | (Ahmanson Theatre) |
| (10/31/23 - 11/5/23) | Seattle, WA | (Paramount (WA)) |
| (11/14/23 - 11/19/23) | Edmonton, Alberta | (Northern Alberta Jubilee Auditorium) |
| (11/21/23 - 11/26/23) | Calgary, Alberta | (Southern Alberta Jubilee Auditorium) |
| (11/29/23 - 12/3/23) | Boise, ID | (Morrison Center) |
| (1/2/24 - 1/7/24) | North Charleston, SC | (North Charleston Coliseum PAC) |
| (1/9/24 - 1/21/24) | Fort Lauderdale, FL | (Broward Center) |
| (1/23/24 - 1/28/24) | Fort Myers, FL | (Barbara B. Mann PAC) |
| (1/30/24 - 2/4/24) | Sarasota, FL | (Van Wezel Hall) |
| (2/6/24 - 2/11/24) | Jacksonville, FL | (Jacksonville Center) |
| (2/13/24 - 2/18/24) | Greenboro, NC | (Tanger Center) |
| (3/12/24 - 3/17/24) | Dayton , OH | (Schuster PAC) |
| (3/19/24 - 3/24/24) | Birmingham, AL | (Birmingham Jefferson - Concert Hall) |
| (3/26/24 - 3/31/24) | Norfolk, VA | (Chrysler Hall) |
| (4/2/24 - 4/7/24) | Indianapolis, IN | (Clowes Memorial Hall) |
| (4/10/24 - 4/14/24) | Philadelphia, PA | (Academy of Music) |
| (4/23/24 - 4/28/24) | Boston, MA | (The Wang - Citi PAC) |
| (4/30/24 - 5/5/24) | New Haven, CT | (Shubert Theater) |
| (5/7/24 - 5/12/24) | Charlotte, NC | (Blumenthal - Belk) |