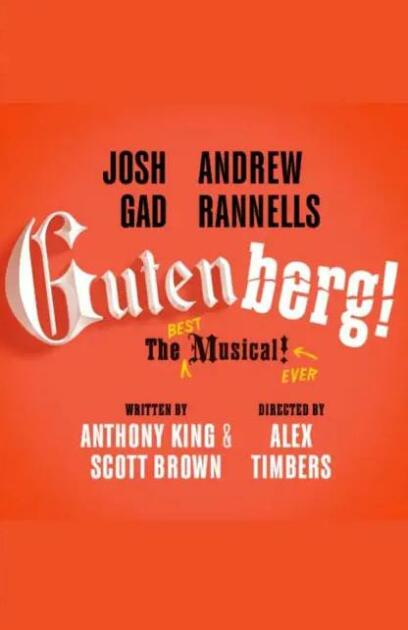 Theatre:
James Earl Jones
(September 15, 2023 - January 28, 2024 )
Rehearsal: August 14, 2023
Preview: September 15, 2023
Open: October 12, 2023
Close: January 28, 2024
Musical - Broadway Premiere
Running Time: 2hrs
Performances: Tues (7pm), Wed (2&8), Thurs (7pm), Fri (8pm), Sat (2&8), Sun (3pm)
"Gutenberg!" is a two man musical spoof which introduces a pair of aspiring playwrights, Bud Davenport and Doug Simon, who are performing a backers' audition for their new project: a great big musical about printing press inventor Johann Gutenberg. They hope that one of the producers in the audience will give them a Broadway contract, fulfilling their ill-advised dreams. Accompanied by Larry, their pianist, Bud and Doug sing all the songs and play all the parts in their crass historical epic, using only baseball caps to differentiate between the show's 30 characters.