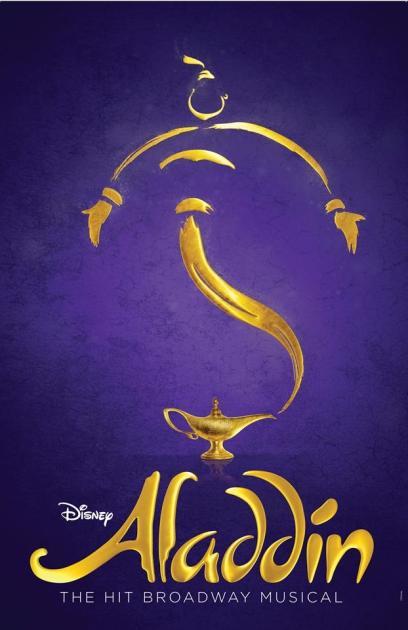 Rehearsal: August 25, 2022
Preview: October 11, 2022
Open: October 16, 2022
This new stage version incorporates the songs from the film's score plus never-before-heard Menken/Ashman songs restored from early drafts of the film. It marks a return to the authors' original vision: a loving homage to the Hope-Crosby road pictures.
For The Record:
This is billed as a "newly-imagined" production.
| | | |
| --- | --- | --- |
| (10/11/22 - 10/23/22) | Schenectady, NY | (Proctor's Theatre) |
| (11/3/22 - 11/6/22) | Worcester, MA | (Hanover Theatre) |
| (11/8/22 - 11/13/22) | Hartford, CT | (The Bushnell - Mortensen Hall) |
| (11/16/22 - 11/20/22) | Indianapolis, IN | (Clowes Memorial Hall) |
| (11/22/22 - 11/27/22) | Buffalo, NY | (Shea's PAC) |
| (11/30/22 - 12/4/22) | Springfield, MO | (Hammons Hall) |
| (12/6/22 - 12/11/22) | Appleton, WI | (Fox Cities PAC) |
| (12/14/22 - 12/23/22) | West Palm Beach, FL | (Kravis Center) |
| (1/1/23 - 1/22/23) | Naples, FL | (Artis—Naples - Hayes Hall) |
| (1/3/23 - 1/8/23) | Miami, FL | (Arsht Center) |
| (1/10/23 - 1/15/23) | Jacksonville, FL | (Jacksonville Center) |
| (1/24/23 - 1/29/23) | Sarasota, FL | (Van Wezel Hall) |
| (2/1/23 - 2/5/23) | Little Rock, AR | (Robinson Center Music Hall) |
| (2/7/23 - 2/12/23) | San Antonio, TX | (Majestic Theatre) |
| (2/14/23 - 2/19/23) | Austin, TX | (Bass Concert Hall) |
| (2/22/23 - 2/26/23) | North Charleston, SC | (North Charleston Coliseum PAC) |
| (2/28/23 - 3/5/23) | Huntsville, AL | (Von Braun Center) |
| (3/8/23 - 3/12/23) | Cleveland, OH | (PlayhouseSquare - Connor Palace) |
| (3/21/23 - 3/26/23) | Ottawa ON, Ontario | (National Arts Centre) |
| (3/28/23 - 4/2/23) | Montreal, QC | (Place Des Arts Pelletier) |
| (4/5/23 - 4/9/23) | Charlotte, NC | (Blumenthal - Belk) |
| (4/11/23 - 4/16/23) | Rochester, NY | (Auditorium Theatre) |
| (4/19/23 - 4/30/23) | Washington, DC | (National Theatre) |
| (5/2/23 - 5/7/23) | Key West, FL | (Tennesee Williams ) |
| (5/30/23 - 6/4/23) | Kansas City, MO | (Music Hall Kansas City) |
| (6/7/23 - 6/11/23) | Albuquerque, NM | (Popejoy Hall) |
| (6/20/23 - 6/25/23) | Boise, ID | (Morrison Center) |
| (6/27/23 - 7/2/23) | Spokane, WA | (First Interstate Center) |
| (7/11/23 - 7/16/23) | Edmonton, Alberta | (Northern Alberta Jubilee Auditorium) |
| (7/18/23 - 7/23/23) | Calgary, Alberta | (Southern Alberta Jubilee Auditorium) |
| (7/25/23 - 7/30/23) | Vancouver, BC | (Queen Elizabeth Theatre (Civic Theatres)) |
| (8/2/23 - 8/13/23) | San Francisco, CA | (Orpheum (San Fran)) |
| (9/5/23 - 9/10/23) | Tucson, AZ | (Centennial Hall) |
| (9/12/23 - 9/23/23) | Los Angeles, CA | (Pantages Hollywood) |
| (9/26/23 - 10/1/23) | Tulsa, OK | (Tulsa PAC - Chapman Hall) |
| (10/3/23 - 10/8/23) | Lincoln, NE | (Lied Center) |
| (10/10/23 - 10/15/23) | Madison, WI | (Overture Center for the Arts) |
| (10/17/23 - 10/22/23) | Milwaukee, WI | (Marcus Center - Uihlein Hall) |
| (10/25/23 - 10/29/23) | Norfolk, VA | (Chrysler Hall) |
| (10/31/23 - 11/11/23) | Greenboro, NC | (Tanger Center) |
| (11/8/23 - 11/12/23) | Syracuse , NY | (Landmark Theatre) |
| (11/14/23 - 11/19/23) | Cincinnati, OH | (Aronoff Center - P&G) |
| (11/28/23 - 12/3/23) | Sioux Falls, SD | (Washington Pavilion) |
| (12/5/23 - 12/10/23) | Minneapolis, MN | (Orpheum Theater (MN)) |
| (12/12/23 - 12/17/23) | St. Louis, MO | (Fox Theatre) |
| (1/3/24 - 1/7/24) | Orlando, FL | (Dr Phillips Center) |
| (1/9/24 - 1/14/24) | Atlanta, GA | (Fox Theatre) |
| (1/16/24 - 1/21/24) | Grand Rapids, MI | (DeVos Place Performance Hall) |
| (1/24/24 - 1/28/24) | Birmingham, AL | (Birmingham Jefferson - Concert Hall) |
| (1/31/24 - 2/4/24) | Fort Worth, TX | (Bass Hall) |
| (2/9/24 - 2/11/24) | El Paso, TX | (The Plaza Theatre) |
| (3/19/24 - 3/24/24) | South Bend, IN | (Morris Performing Arts Center) |
| (3/26/24 - 3/31/24) | Fayetteville, AR | (Walton Arts Center) |
| (4/3/24 - 4/7/24) | San Diego, CA | (Civic Theatre) |
| (4/10/24 - 4/21/24) | Anchorage, AK | (Atwood Concert Hall) |
| (4/24/24 - 4/28/24) | Seattle, WA | (Paramount (WA)) |
| (5/1/24 - 5/5/24) | Fresno, CA | (Saroyan Theater) |
| (5/7/24 - 5/12/24) | Costa Mesa, CA | (Segerstrom Center) |