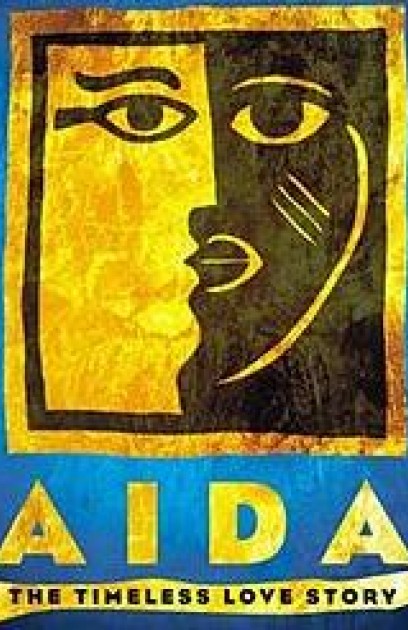 Theatre:
Palace
(February 25, 2000 - September 05, 2004 )
Preview: February 25, 2000
Open: March 23, 2000
Close: September 5, 2004
Musical - New York Premiere
Running Time: 2hrs 30mins
"Aida" is a new musical based on Giuseppe Verdi's Italian-language opera by the same name, the scenario of which was written by Auguste Mariette. The musical originated from a children's storybook version of Verdi's opera written by the soprano Leontyne Price. Set in the Egyptian wing of a modern museum, a man and a woman touring the exhibit catch each other's eyes. A statue of Amneris, a female Pharaoh, comes to life and transports them to ancient Egypt, where Radames, captain of the Egyptian army, and his men are returning from an expedition through the land of Egypt's long-time enemy, Nubia. When his soldiers capture a group of Nubian women, he is captivated by one of the women, Aida, who tries to free herself by out-dueling one of his soldiers.
For The Record:
"Aida" had its World Premiere under its original title "Elaborate Lives: The Legend of Aida" at the Alliance Theatre in Atlanta, GA on September 16th, 1998 and running till November 8th of that year.The Atlanta production featured Heather Headley (Aida), Hank Stratton (Radames) and Sherie Rene Scott (Amneris). The newly revised production of "Aida" opened on November 12th, 1999 at the Cadillac Palace in Chicago, IL and ran through January 9, 2000 featuring Ms Headley as Aida, Ms Scott, as Amneris and Adam Pascal joining the cast as Radames for the Chicago run. Robert Falls took over as director in Chicago, replacing Robert Jess Ross; and set designer Bob Crowley replaced Stanley A. Meyer. Also part of the new Chicago team was choreographer Wayne Cilento.

Total Gross: $165,928,398
Average Weekly Gross: $700,120
Total Attendance: 2,714,193
Average Weekly Attendance: 85%