A Moon for the Misbegotten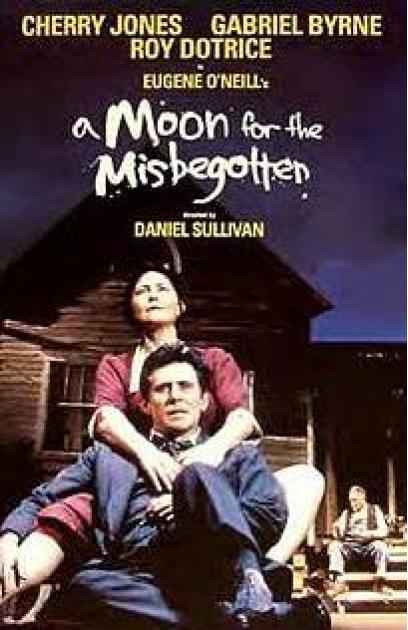 Theatre:
Walter Kerr
(March 07, 2000 - July 02, 2000 )
Preview: March 7, 2000
Open: March 19, 2000
Close: July 2, 2000
Running Time: 2hrs 45mins
"A Moon for the Misbegotten" is a sequel to O'Neill's "Long Day's Journey into Night", with the Jim Tyrone character as an older version of Jamie Tyrone. Set in a dilapidated Connecticut house in early September 1923, the play focuses on three characters: Josie, a domineering Irish woman with a quick tongue and a ruined reputation, her conniving father, tenant farmer Phil Hogan, and James Tyrone, Jr., Hogan's landlord and drinking companion, a cynical alcoholic haunted by the death of his mother.
For The Record:
"A Moon for the Misbegotten" originally opened in 1947 at the Hartman in Columbus OH under the auspices of The Theatre Guild. That tryout production closed one month later at the American in St Louis MO. Arthur Shields directed that production for The Guild with a cast headed by Mary Welch & James Dunn. The first B'way production took place at the Bijou in May 1957 under the auspices of Carmen Capalbo & Stanley Chase. Mr Capalbo directed a cast headed by Wendy Hiller, Cyril Cusack & Franchot Tone. In Dec 1973 Elliot Martin co-produced a production of "A Moon..." with Lester Osterman & Richard Horner at the Morosco. It was directed by José Quintero and the cast was headed by Colleen Dewhurst & Jason Robards. The last B'way production of this O'Neill play opened in May of 1984 at the Cort. It was produced by The Shubert Organization & Emanuel Azenberg. David Leveaux directed a cast which included Kate Nelligan, Ian Bannen & Jerome Kilty.
Sidelight: This production originated at the Goodman/Chicago IL (1/14/00 - 2/19/00).
Total Gross: $5,354,179
Average Weekly Gross: $314,952
Total Attendance: 102,568
Average Weekly Attendance: 81%