Public Announces lineup for 15th Annual Under The Radar Festival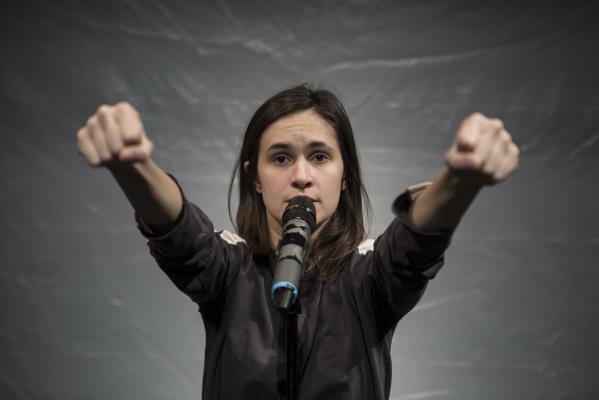 The Public Theater (Oskar Eustis, Artistic Dirt; Patrick Willingha, Executive Dir) has announced the full line-up today for the 15th annual UNDER THE RADAR FESTIVAL, running Jan 3-13, 2019. This festival of The Public's winter season will include artists from across the U.S. and around the world, including Argentina, Australia, France, Lebanon, Nigeria, Norway, Palestine, and the UK. Curated by UTR Festival Director Mark Russell, this year's UNDER THE RADAR FESTIVAL continues to expand to venues throughout New York City in addition to The Public Theater's home at Astor Place. The lineup includes Hear Word! Naija Women Talk True (Jan 3, 5-7) Presented by Under the Radar Festival and iOpenEye in association with the American Repertory Theater, directed by Ifeoma Fafunwa. The show is inspired by multi-generational stories of inequality and transformation. The show grapples with the issues affecting the lives of women across Nigeria, and the factors that limit their potential for independence, leadership, and meaningful contribution in society. Combining song and dance with intimate portraits of resilience and resistance, the show celebrates the women who have broken the culture of silence, challenged the status quo, and moved beyond barriers to achieve solutions; Frankenstein (Jan 3, 5-7, 10-12) by Manual Cinema, adapted from the novel by Mary Shelley, Concept by Drew Dir, Devised by Drew Dir, Sarah Fornace & Julia Miller with original music by Kyle Vegter and Ben Kauffman. Love, loss, and creation merge in unexpected ways in this thrilling classic gothic tale. Stories of Mary Shelley, Victor Frankenstein, and his Monster expose how the forces of family, community, and education shape personhood—or destroy it by their absence. Multimedia company Manual Cinema stitches together the classic story with Mary Shelley's own biography to create an unexpected story about the beauty and horror of creation. Chambre Noire (Jan 10-13,) created by Plexus Polaire. A wild hallucination around the death-bed of Valerie Jean Solanas (1936-1988): the most beautiful girl in America, the talented psychology student who spent her life going in and out of mental institutions, the first intellectual whore, writer, radical feminist, creator of the SCUM Manifesto, the woman who shot Andy Warhol… A character that is complex, multi-sided, outrageous, and absolutely human; Evolution of a Sonero (Jan 9, 12-13) written and Performed by Flaco Navaja, Directed by Jorge Merced. With unabashed love for The Bronx, a gift for crafting memorable characters, and genuine good humor, Navaja and five top-notch musicians—aka The Razor Blades— bring on the charm, the rhythm, and the soul essential to a Bronx Sonero. Paying homage to many great musical icons —from Janis Joplin to Menudo, from The Doors to Héctor Lavoe, from Jimi Hendrix to Rubén Blades— the play is as much about Navaja's creative evolution as it is about the wild mix that gives life to a rhyme, a people, and a culture. [50/50] old school animation
(Jan 4-7, 11, 13) created by Peter Mills Weiss & Julia Mounsey. A classical ghost story for our contemporary moment, this deceptively simple confessional transforms into an unnerving reflection on womanhood, memes, and our capacity for cruelty. Minor Character (Jan 4-6, 9, 11-13) created by New Saloon, directed by Morgan Green. New Saloon's irreverent mashup of English-language translations of Uncle Vanya — from the dusty 1916 edition to Google Translate's profoundly whack results—is a kaleidoscopic amplification of Chekhov's depressing comedy. Each character is interpreted by multiple actors and through multiple translations, in an athletic attempt to say one true thing. The Cold Record (Jan 4-7, 9-13) by Rude Mechs, written and performed by Kirk Lynn, directed by Alexandra Bassiakou Shaw. A secret performance. A one-man show. The story of a 12-year-old boy who tries to set the record for leaving school the most days with a fever and in the process falls in love with the school nurse and breaks his heart on the punk rock. You must promise never to speak about what you witnessed or else you'll get kicked out. As Far As My Fingertips Take Me (January 4-7, 9-13) by Tania El Khoury, performed by Basel Zaraa. Tania El Khoury commissioned musician and street artist Basel Zaraa who was born a Palestinian refugee in Syria to record a rap song inspired by the journey his sisters made from Damascus to Sweden. Through touch and sound, this intimate encounter explores empathy and whether we need to literally "feel" a refugee in order to understand the effect of border discrimination on peoples' lives. For the full festival lineup, please visit: www.publictheater.org. Press contact: Candi Adams (212/539-8680)...