Astaire Awards renamed for Chita Rivera, set for 9/11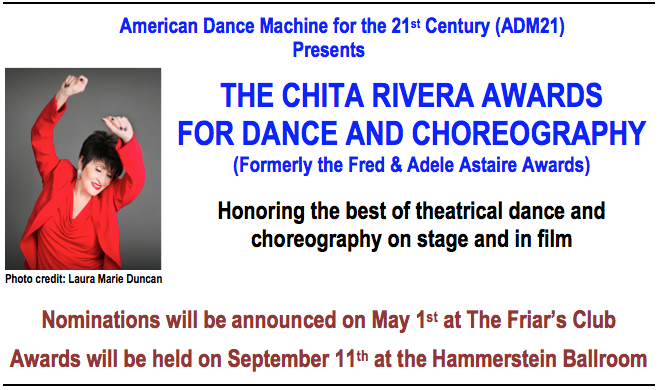 American Dance Machine for the 21st Century (ADM21)
has announced that it has established the The Chita Rivera Awards for Dance and Choreography (formerly The Fred & Adele Astaire Awards) to honor the best of theatrical dance and choreography, both on Broadway and off, as well as film and television. Now carrying the namesake of one of the great dance icons of the American Musical Theater, the Awards will be executive produced by Patricia Watt and produced by Nikki Feirt Atkins, Founder and Producing Artistic Director of ADM21. The Chita Rivera Awards for Dance and Choreography will be presented under the auspices of ADM21, a non-profit dance organization dedicated to the preservation of great musical theater choreography.
The nominations will be announced on Mon May 1 at
The Friar's Club
(57 E. 55
th
St) and the awards will be held on Mon Sept 11 at The
Hammerstein Ballroom
(311 W. 34
th
St). Press contact: Scott Klein/Keith Sherman & Associates (212/764-7900)...