RADIO 930, a new musical to have industry presentation 2/23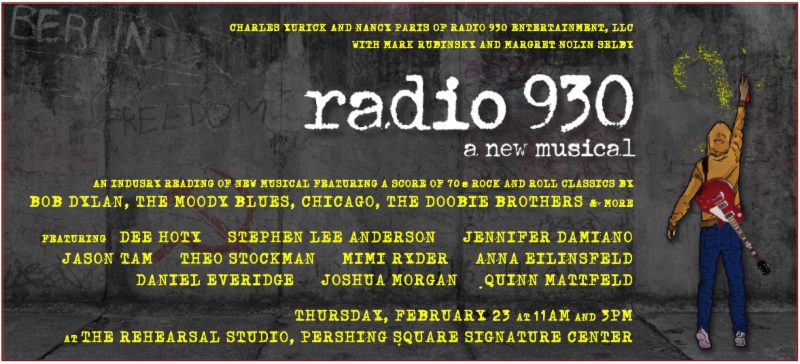 RADIO 930
, a new musical, will be have an industry presentation (by invitation only) on Thur Feb 23 at 11:00 AM and 3:00 PM at The Rehearsal Studio, Pershing Square Signature Theatre Center (480 W. 42nd St). Featuring a score of rock and roll classics by Bob Dylan, The Moody Blues, Chicago, The Doobie Brothers and more, "Radio 930" is conceived by Nancy Paris and Charles Yurick with a Book by Josh Billig, and musical direction and orchestrations by Doug Katsaros.
Dan Knechtges
directs a company featuring
Dee Hoty
,
Stephen Lee Anderson,
Jennifer Damiano
,
Jason Tam
,
Theo Stockman
,
Mimi Ryder
,
Anna Eilinsfeld
,
Daniel Everidge
,
Joshua Morgan
&
Quinn Mattfeld
. The musical is set in East Berlin, 1977 - In a monochromatic world where Western culture and religion are strictly forbidden. Bernard Heidt - a bright young engineer in the Stasi Secret Police - is given the task of jamming the signal of illegal radio stations playing rock & roll. A chance encounter with a group of young revolutionaries throws Bern's life into a tailspin. He discovers a passion for this intoxicating music, his love for Maya - a beautiful, free spirited rebel girl - and the truth behind his own family's history. Caught between love, rock and roll, and the Communist Party, Bern must grapple to understand what it means to be truly heroic, what it means to be family, and what it means to be free. The reading is presented by
Charles Yurick
and
Nancy Paris
of
Radio 930 Entertainment, LLC
, with
Mark Rubinsky
and
Margret Nolin Selby
.
Industry professionals who wish to attend one of the Feb. 23
RADIO 930
presentations, please e-mail
generalmanagement@davenporttheatrical.com
. Press contact: Brett Oberman/Keith Sherman & Associates (212/764-7900)...