Happy Birthday, Wanda June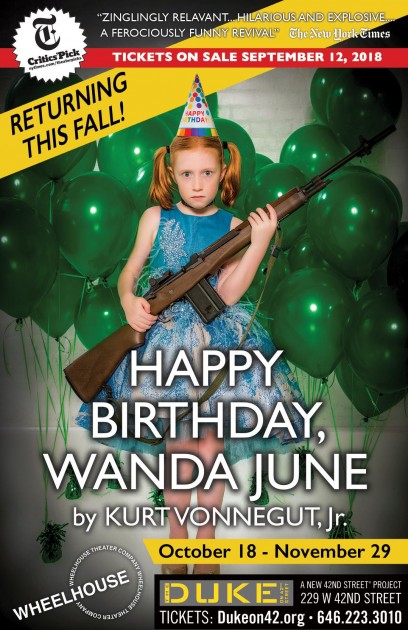 Theatre:
Duke on 42nd St
(October 18, 2018 - November 29, 2018 )
Rehearsal: September 17, 2018
Preview: October 18, 2018
Open: October 23, 2018
Close: November 29, 2018
Running Time: 2hrs
After being presumed dead for eight years, respected war veteran and big game hunter, Harold Ryan, returns home and brings with him an old way of thinking, celebrating a Hemingway-esque machismo and American exceptionalism. Harold soon discovers that the society he returns to has made attempts to progress into a more modern, enlightened cultural narrative.
For The Record:
"Happy Birthday..." first premiered off-B'way at the Theater de Lys (now the Lucille Lortel) in 1970, was restaged at that season at the Edison on B'way, starring Marsha Mason and Kevin McCarthy. This production played the Gene Franklel in the spring of 2018.