York's Tune in Time set for 6/20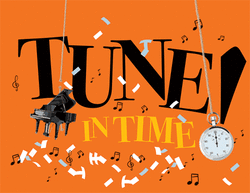 The York Theatre Company
(James Morgan, Producing Artistic Dir; Evans Haile, Interim Executive Dir; David McCoy, Chairman of the Board), celebrates Pride Month with the June installment of the game show for musical theater lovers,
Tune in Time
, presented by
Amy Engelhardt
and
Heather Shields
, hosted by
Emily McNamara
, with Musical Director
Nate Buccieri
and annoyingly insistent timekeeper
Sheila Head
,
and featuring celebrity guest judges drag performers
Marti Gould Cummings
,
Judy Darling
and
Brita Filter
, on
Mon June 20 beginning at 7:30 PM at
The York at Saint Peter's
(East 54

th
St just east of Lexington Ave).
The June line-up of songwriters includes
James Harvey,
Rebekah M. Allen
,
Jamie Cowperthwait
,
Russell Kaplan
and the team of
Jonathon Lynch
and
Danielle Trzcinski
, who will be split up for the evening. In this "Musical Theater Olympics," three teams of composers and lyricists who have never worked together are forced to collaborate – and to beat the clock. Their task? They must write a song for a new Broadway musical, the title of which is picked from a hatful of audience suggestions – and in a style determined by a spin of the dreaded Genre Wheel – all within 20 minutes! For tickets & more info, please visit
www.yorktheatre.org
. Press contact: Richard Hillman PR (917/523-8849)...