BKLYN: THE MUSICAL Returns Benefit Concert, October 21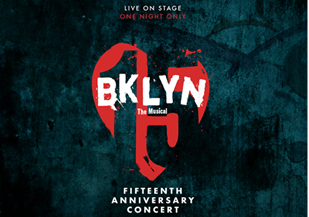 Producers

Eden Espinosa, Bridget Elise Yingling, Scott Prisand, Doug Feurring

and

Jana Shea

have

announced a one-night-only 15th

Anniversary reunion concert of

BKLYN: The Musical

featuring Original Broadway stars Eden Espinosa,

Karen Olivo

and Ramona Keller

as Paradice. The concert, which benefits

Covenant House Foundation
, will be presented on the 15th

anniversary of the show's B'way opening night,

Mon Oct 21 at 7:30 PM, at Brooklyn Steel (319 Frost St, Brooklyn).
With original direction by Jeff Calhoun

the musical is written by Mark Schoenfeld

and Barri McPherson.
"BKLYN
"

made its World Premiere in Denver in 2003 and opened on B'way on Oct 21, 2004 at The Plymouth playing 311 performances. The musical tells the story of the "City Weeds," five homeless musicians who band together to transform their neighborhood beneath the Brooklyn Bridge. Utilizing the play within a play structure, the City Weeds share the story of Brooklyn – a Parisian singer – in addition to their own stories. Orphaned after her mother's death, Brooklyn travels to the United States in search of her father and the life she always dreamed of. More information about Covenant House can be found at

covenanthouse.org. Press contact: Vivacity Media Group (212/812-1483)...