Daniel "Rudy" Ruettiger to Star in One-Night Only Performance at The Samuel J Friedman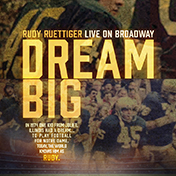 The Producers' Society, Dicks+Nanton Productions, and Executive Producers Nick Nanton and J.W. Dicks have announced the one-night only World Premiere of Dream Big: Rudy Ruettiger Live on Broadway. The performance stars Daniel "Rudy" Ruettiger, the subject of the film, "Rudy" and will take place on February 11 at the Samuel J Friedman (261 W 47th St.) Most people know the story of Rudy, the small kid from Illinois who was determined to play football for Notre Dame despite having neither a strong academic nor athletic background. But not many know the rest of the story, including how the iconic movie "Rudy" came to be made through the persistence of the man at its center. Daniel "Rudy" Ruettiger takes to a Broadway stage for the first time to share his incredible story. Hear in his own words how he succeeded in getting into, and playing for Notre Dame, despite dozens of rejections. And hear how Rudy got his story out to the world, making him a household name synonymous with determination and refusal to quit. The evening is directed by Nick Nanton. and produced by Mr Nanton, J.W. Dicks, Ken Wirth, Cheryl Ruettiger, Erik Ball, Jennifer Kauffman, Edward Mafoud, Albert Allen, Christine Marcello, Daniel Veitkus, Peter D'Arruda & Wayne Nugent. Press contact:
Katie Tschopp/PR Newswire (407/215-7564)...