NAMT sets 30th Anniversary Lineup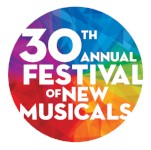 National Alliance for Musical Theatre (Betsy King Militello, Executive Director) has announced the line-up of new musicals for their 30th Annual FESTIVAL OF NEW MUSICALS, which takes place on Thurs Oct 25 and Fri Oct 26 at New World Stages (340 West 50th St). The Festival events will kick off on Mon Oct 22 with Thank You, 30!, a gala event to celebrate the 30th Annual Festival. Registration for industry members is free and now open at www.namt.org/festival. The public can also receive passes to the Festival through a donation to NAMT. There is also a day-of standby line for the general public for free admission (based on availability).
The lineup is 17 Again (book by Marco Pennette, music & lyrics by Alan Zachary & Michael Weiner), A.D. 16 (book by Bekah Brunstetter, music & lyrics by Cinco Paul), Gun & Powder (book & lyrics by Angelica Chéri, music by Ross Baum), Monstersongs (book, music & lyrics by Rob Rokicki), Row (book by Daniel Goldstein, music & lyrics by Dawn Landes), The River Is Me (book & lyrics by Sukari Jones, music by Troy Anthony), The Wicker Husband (book by Rhys Jennings, music & lyrics by Darren Clark), and XY (book, music & lyrics by Oliver Houser, developed with Hunter Bird). Casting for each musical and further programming details will be announced soon. The Festival presents eight musicals in 45-minute presentations before an audience of over 600 industry professionals. In the short run, the Festival's goal is to connect producers with writers, so that their shows can continue their development trajectory. The long-term goal is to expand the musical theatre repertoire, bringing new musical theatre to thousands of audience members around the world.
The 30th ANNUAL FESTIVAL OF NEW MUSICALS is overseen by NAMT New Works Director Ciera Iveson and Festival General Manager Lisa Dozier Productions and Associate General Manager Dailey-Monda Management. Press contact: Karen Greco PR (212/560-9868)/Joe Trentacosta PR (973/568-8236)...