TACT's Spring Gala to honor Ripley, Rebeck, McCann & Nugent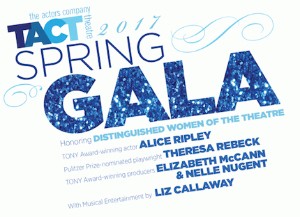 TACT (Scott Alan Evans, Exec Artistic Dir; Nora Chester & Jeffrey C Hawkins, Associate Artistic Dirs) has announced the 2017 Spring Gala will honor Alice Ripley, Theresa Rebeck, Elizabeth Ireland McCann and Nelle Nugent, four distinguished women of the theatre. The Gala will take place on Mon May 8th at The University Club of New York (1 West 54th St) beginning at 6:30 PM with a cocktail reception, followed by dinner, live auction and entertainment. Liz Callaway will provide entertainment, offering an evening of live entertainment, fine dining, and great company at the chic University Club. TACT is a company of theatre artists that reveals, reclaims, and re-imagines great plays of literary merit, creating an intimate theatre experience for its audience by focusing on the text and the actor's ability to bring it to life.
For more information, please visit at tactnyc.org. Press contact: David Gersten & Associates (212/575-0263)...