Gingold's Project Shaw to present YOU CAN NEVER TELL 4/17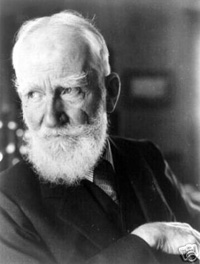 Gingold Theatrical Group's Project Shaw, under the leadership of Artistic Director David Staller, will continue its 12th Season when it presents its 122nd concert presentation with Shaw's 1897 romantic comedy of errors You Never Can Tell on Mon April 17 at 7:00 PM, at Symphony Space's Leonard Nimoy Thalia (2537 B'way). Directed by David Staller, the cast features Michele Pawk, Jonathan Hadary, Lenny Wolpe, Tom Duke, Midori Francis, Marc LeVasseur, Susannah Perkins, Tony Roach & Raphael Nash Thompson. Susan Haskins-Doloff is the Narrator. Returning to England after 18 years, Mrs. Clandon and her three children – twins Dolly and Phillip and Gloria – readjust to British life at a summer resort. In this comedy of errors, the children unintentionally invite their estranged father Fergus Crampton to a lunch. Tickets are available at www.symphonyspace.org. Now celebrating its 12th year, Gingold Theatrical Group's Project Shaw made history in
December 2009 as the first company ever to present performances of every one of Shaw's 65 plays (including full-length works, one-acts and sketches). They are now also including plays by writers who most inspired Shaw to begin his playwriting career, including work by Chekhov, Ibsen, Wilde, Barrie, and Harley Granville-Barker--while continuing its new play development and educational programs. Project Shaw events are followed by a talk-back with cast members. For more information about Project Shaw and Gingold Theatrical Group, please visit www.projectshaw.org. Press contact: Charlie Siedenburg (551/655-0968)...