New Musical FANCY to have Lab Presentation 3/16 & 3/17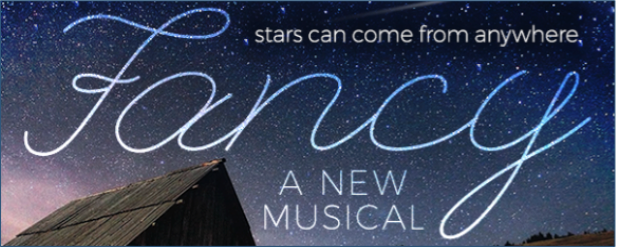 Margot Astrachan
and
The Peccadillo Theater Company
will present a developmental lab presentation of
FANCY
, a new musical, on Thurs Mar 16 at 4:00 PM and Fri Mar 17 at 11:00 AM and 3:00 PM at
The Westside
, downstairs (407 West 43
rd
St). A reception follows each of the presentations. Inspired by Reba McEntire's hit recording, "Fancy
"
is the story of a poor 16-year-old Louisiana girl whose dreams of making music were silenced by her mother's cruelty. "Just be nice to the gentlemen, Fancy, and they'll be nice to you" are the mother's parting words to her daughter when she puts her out of the house and into a life on the streets. But young Fancy is determined to turn her life around and her voice, as if predestined by her name, will not stay silenced. Her dreams of making music set her on a course towards country music superstardom. But fame comes at a price. Featuring a score of crossover hits by
Bobbie Gentry
,
Reba McEntire
,
Loretta Lynn
,
Johnny Cash
,
Bonnie Raitt
,
Garth Brooks
,
The Judds
,
Randy Travis
,
Carrie Underwood
,
Ray Charles
,
Merle Haggard
,
George Strait
,
George Michael
,
Alabama
and more, the musical
features a book by
Susan DiLallo
and
Dan Wackerman
.
Denis Jones
, directs and choreographs a company featuring
Katie Boeck
,
Matt Bogart
,
Felicia Finley
,
Jon Patrick Walker
,
Colin Cunliffe
,
Kara Mikula
,
Sydney Morton
,
T. Oliver Reid
,
Blair Ross
,
Sam Sherwood
,
Kirstin Tucker
&
Scott Wakefield
.
"Fancy" features lighting consultation by Philip Rosenberg; costume consultation by Alejo Vietti; Sound consultation by John Shivers; casting by Binder Casting, Jay Binder, CSA; and music direction by Brad Simmons. Richard Frankel and Joe Watson are executive producers. Industy professionals who wish to attend can e-mail fancy@frankelgreen.com. Press contact: Brett Oberman/Keith Sherman & Associates (212/764-7900)...